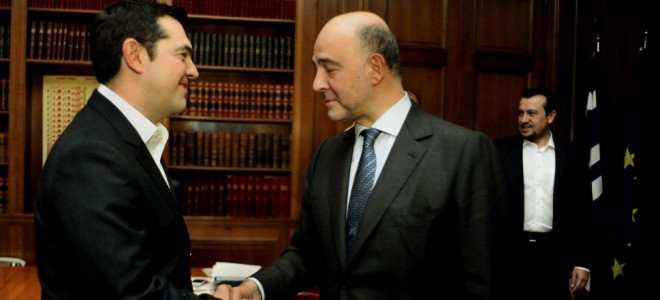 Athens, November 3, 2015/ Independent Balkan News Agency
By Zacharias Petrou
European Economic Affairs Commissioner Pierre Moscovici arrived in Athens for talks with Greek Prime Minister Alexis Tsipras on Tuesday.
The meeting between Tsipras and Moscovici was also attended by Government Vice President Yannis Dragasakis and State Minister Nikos Pappas.
The main aim of Moscovici's visit was to ensure that Athens remains on track to complete the first review of its bailout by mid-November. The Commissioner was quick to warn the Greek government that it had six days to resolve outstanding issues.
Speaking after talks with Greek Finance Minister Euclid Tsakalotos on the first of his two days in Athens, P. Moscovici said: "I can confirm three or four issues are still on the table. We are confident that in the spirit of a compromise the Eurogroup meeting on Monday will be a success."
Apart from the vote on the omnibus bill on Thursday, the government also has to draft a pension reform plan and reach an agreement with lenders on what to do with nonperforming loans.
The government hopes Moscovici will help towards a "political solution" that will guard primary home-owners from foreclosures. It is also hoped he could assist in the smooth conclusion of the bailout review and in starting debt relief talks.
"We are not considering the case of failure, we are looking only for success," the EU Commissioner added.
Moscovici indicated that if there is an agreement on the disbursement of the next sub-tranche, Greece will subsequently have to pass more measures before it can pass the first review of the current bailout by its lenders. After that, the discussion on debt relief can begin, the commissioner suggested.
Greek Finance Minister Euclid Tsakalotos said he was optimistic that debt relief talks will start before Christmas and that Greece will not wait until the completion of the program review to present its proposals, as a team at the ministry is already working on them.
The minister also clarified that "the institutions must understand that Greece is "a special case and that there are things that can be done during a recession and things that cannot." Tsakalotos also revealed the government has drawn up a clear roadmap that includes bank recapitalization, the completion of the bailout program implementation review and the debate on debt relief.