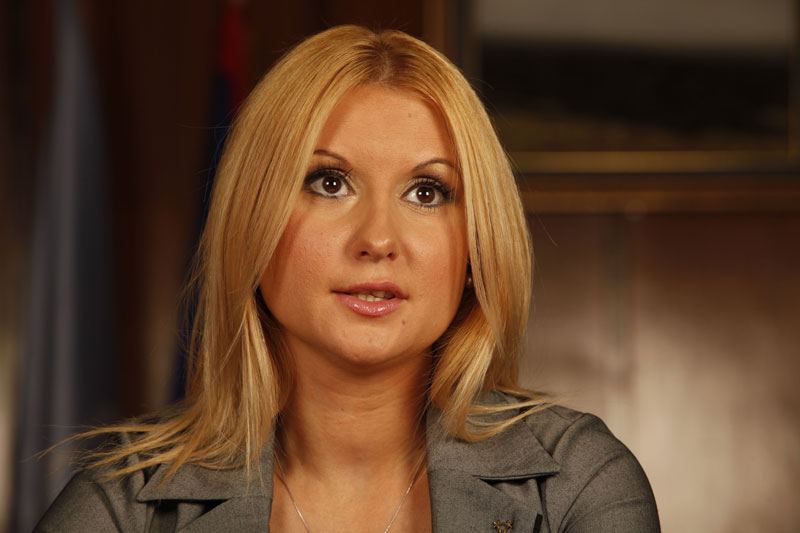 European Union's enlargement commissioner Johannes Hahn met in Belgrade with Serbian opposition leaders and, in a separate meeting, with prime minister Ana Brnabic.
Aleksandra Jerkov (photo), member of parliament from Democratic Party, said that opposition leaders have told Hahn that "there are serious problems with democracy, institutions, rule of law, human rights and media freedom" in Serbia.
The opposition leaders, according to Jerkov, have informed Hahn of the demands of citizens who take part in the protests throughout Serbia.
"They (EU) follow these events very carefully and we told them that we would be partners in resolving (problems) them. When it comes to the dialogue with the government representatives for which EU is very interested, we have said that the only issue could be the preconditions for elections. We also informed him (Hahn) of the non-governmental organization Crta initiative and its 20 recommendations for elections if they were to be organized in 2020", Jerkov told journalists.
Boris Tadic, former Serbian president and leader of the Social-Democratic Party, said that he informed Hahn of the "downfall of democracy" in the country.
The Kosovo issue dominated at the meeting of Hahn with PM Brnabic, according to accounts. Brnabic, as she said, told Hahn that EU "insistence" that Belgrade and Pristina sign "other agreements was not fair", taking into account that Pristina "does not respect some of the key regional agreements".
Hahn told Brnabic that he understands the "anger" of Serbia with regard to the 100 percent customs tax imposed on Serbian products by Pristina. He added that the EU has tried to urge the abolition of the tax.
On Thursday evening, the EU official spoke with president Aleksadar Vucic. During the discussion, Hahn insisted on the "further advance of democracy and the rule of law" in Serbia. This advance is necessary both "for the benefit of Serbian citizens" and for the accession of Serbia to the European Union, Hahn said./ibna