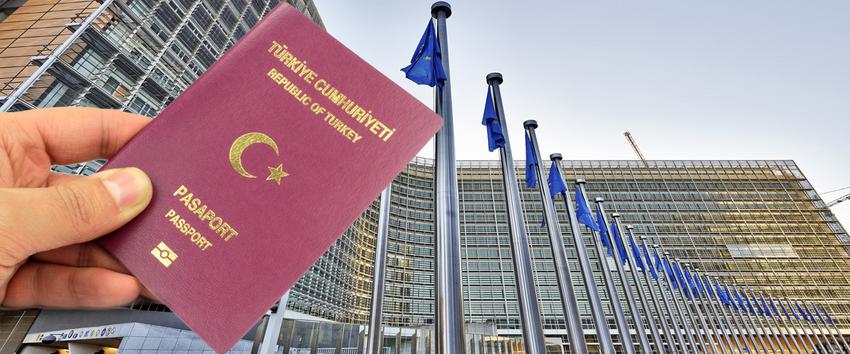 Ankara, May 4, 2016/Independent Balkan News Agency
By Manolis Kostidis
EC is preparing recommendation to cancel the visa for Turkish citizens 
Ankara hastens to meet the 72 criteria set by Brussels to Turkey in order to lift the EU visa for Turkish citizens.
The turkish newspaper Hürriyet reports that the Turkish government has even leased special aircrafts to carry special documents that need to reach the European technocrats.
However, according to information, Turkey has made necessary changes to the 64 criteria out of the 72 it must meet, but despite that the European Commission seems that it will issue a recommendation today to Member States to allow free movement of Turkish citizens within the EU!
These changes will also affect the citizens of the Republic of Cyprus, who will no longer need a visa to visit Turkey, under the EU-Turkey agreement on the liberalisation of visas.
Until now, the Republic of Cyprus citizens could travel to Turkey, but needed to get a visa at the entrance gates.
Ankara however, makes it clear that this does not meanl the recognition of Cyprus by Turkey.
The cabinet just yesterday approved the liberalization of visas for EU citizens, so when the EU lifts the obligation of Turks have a visa when traveling to the EU!
The question is what will happen to Turkish nationals who want to travel to Cyprus.
"The Government monitors and evaluates the developments with regard to visas for Turkish nationals, and has already held internal meetings at a technocrats level", said the Spokesman of Cyprus Nikos Christodoulides and stressed that "the position of Cyprus is summarized in the need, as applies to all states wishing entry liberalisation for their nationals in EU Member States, to fulfill all the necessary criteria to all Member States".
An important question is what will happen if the millions of Kurds who are Turkish nationals travel without visas in Europe and seek asylum, due to the battles and operations of the Turkish army in southeastern Turkey.
Turkey's agreement with the EU promises the abolition of visas for Turkish citizens, from July onwards, provided that 72 criteria are met.
In return for the concessions, Turkey agreed to take back immigrants who arrived in Greece from March 20 onwards, with Turkey accepting the readmission a Syrian refugee for each immigrant relocated to the EU.
On the day of the agreement, the flow of refugees and migrants from Turkey to Greece has dropped by 95%.