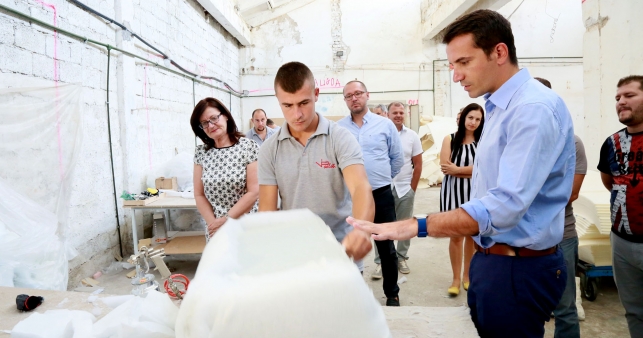 IBNA Special Report
Tirana, October 31, 2014/Independent Balkan News Agency
By Edison Kurani
Very few people took professional education seriously in these two and a half decades of capitalism in Albania. The consequences were not acute, but the effects are being felt in the recent years. Many services are suffering the lack of professionals. Very few young people have gained a craftsmanship, even those whose parents and cousins have been craftsmen. Nonetheless, technology has evolved a lot and it was hard to be embraced by craftsmen of the communist regime.
This situation seems to have been seriously taken by the current government. Its focus is on professional education. This is why efforts are being made to increase the number of people who are educated in professional schools. Albanian and European market needs professionals, therefore it's very important to make people aware of this, in order to get rid of the undermining and skeptic image that exists toward this education.
This year, six thousand students enrolled professional schools. This is considered to be a success for professional education in Albania and the restore of public trust in this form of education.
Efforts to bring back professionals
The focus of the minister of Social Welfare and Youth, Mr. Erion Veliaj is to bring back professional education. He says that the promotion of professional education is bringing back the culture of craftsmanship in Albania. According to him, a successful economy is based in a population educated in several domains.
Veliaj says that the strengthening of schools and professional centers is being done based on the German model. But, he adds: "The question is: any kind of profession or professions demanded by the labor market? We have found schools where people used to learn how auto tractors were built. This is the reason why this time we opened several new schools, where job offices were signaling us that there were job offers", says minister Veliaj.
The minister also offers examples as to how these needs are assessed. He says that because of the demands of the labor market, this year saw the opening of a professional course in Bulqiza for those who work in the mineral industry and a school of technology of information in Tirana. "For the first time, we have altered the approach: it's no longer the public sector that asks the state to train people, but it's the state that asks the private market as to the training it can offer to meet the needs of the labor market", says Mr. Veliaj.
In order to make this education as functional as possible, the government has decided for all professional school boards to be led by the business. "The business is there not only to change the curricula and also make sure that students will spend 30% of their time near a business", says Mr. Veliaj. Veliaj also identifies a 40% growth this year as opposed to 2013, of students who have enrolled high professional education.
From monism to capitalism, how has the situation changed
At the end of the '80s in communist Albania, it was a luxury to enter high schools. Those who came from villages or the province and those who belonged to poor city families along with "mischievous" boys and girls, ended up in professional schools. At that time, they were seen more of a punishment than an opportunity to earn a profession.
At the beginning of '90s, although democratic and capitalist system was restored in Albania, Albanians didn't seem to understand or they didn't want to understand that professions were the ones that would bring survival or a better living standard.
Throughout the country, state professional schools were shut down and private schools didn't exist. High schools increased in number and young people underwent general education.
This caused a chain reaction. Public universities had and continue to have many professional course, but students that enrolled, had very poor theory and practical knowledge because they had attended high schools.
Meanwhile, in these 20 years, professional education has been seen with skepticism not only by the state, but also by the people. During the last two decades, often accidentally and often through public policies, Albania had a sustainable economic growth mainly generated by remittances and services.
The percentage of students in the professional education system since 1994 constantly fell by coming down to 17% in 2013. Out of 130 thousand students who attend high schools in Albania, less than 20% attend professional education. These figures are far from the model followed by Switzerland, where 65% of young people is part of the professional education.
After two decades, it seems that the situation has changed. Public professional schools are coming back and along with them, several private ones have opened too. An observation made by IBNA on the field shows that young people have realized that it's difficult to move forward in life without a profession.
Artan is 19 years of age and regrets the fact that he refused to enter e professional school. "Four years ago, when I was told to enroll a professional school, I refused. Why did I have to do that, when all my friends when to high school? Today I regret my decision. I have enrolled law school, but there are so many who study law and I don't know where they will go".
Meanwhile, Genta, a 37 year old woman who works today as a manager, says that when she first enrolled a professional school to study food technology, everyone looked at her with contempt. "I was very young then. I used to fight with boys and spend time with them. My father enrolled me in a professional school, although I didn't want it. There, I was the only girl in the class and everyone else was a boy. During the first year, I didn't study and I used to go on as before. In the three remaining years I improved a lot".
Genta continued her university studies and for years, she's been working for an international company that distributes food products. "I know several friends of mine from university, who are unemployed, housewives or work as teachers making 350 Euros a month", says Genta, who a few months ago got another promotion that took her salary to 1600 Euros a month without counting the bonuses that she receives every six months. /ibna/
On the photo: Minister Erion Veliaj with students of professional public education