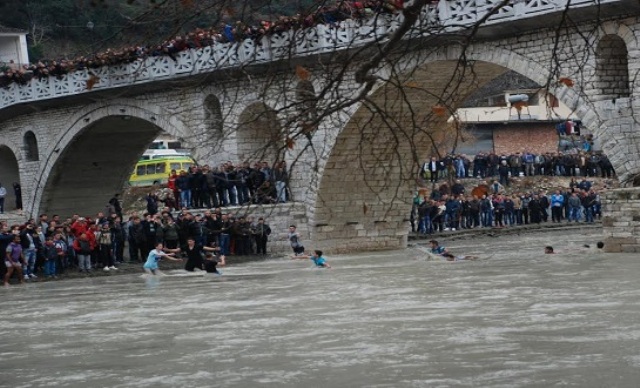 The snow and the low temperatures have not stopped Orthodox believers from celebrating the ritual of the Blessed Water.
In Korca, Berat, Durres, Fier and Lushnja, tens of young people challenged the temperatures and cold water and jumped into the water to take out the blessed cross.
At the age of 30, Jesus Christ went in the waters of the Jordan river to be baptized by John the Baptist, the Bible says.
This marks the origin of the belief that blessed water is a way to clean the soul of the sinner, therefore, every 6 January, Orthodox believers become part of the ritual of the Blessed Water.
On this holy day, water turns into the icon of the invisible grace of God, which through the water and the Spirit, cleans, sanctifies and enlightens people who believe in Christ.
Therefore, in Durres, hundreds of Orthodox believers have celebrated today the Blessed Day, challenging the low temperatures and the icy waters.
The ceremony for the catching of the cross was held near the port. The 19 year old boy, Enkel Sinani, jumped in the waters of the Adriatic sea and found the cross, amid the applauds of the participants.
In Berat, Ministry of Social Welfare and Youth, Blendi Klosi said that this is a day of social appeal.
"In Berat, residents challenged the bad weather and the low temperatures, to continue the tradition of the throwing of the cross in the water. It is a day that reminds us to show solidarity, be united and help the needy ones", Klosi said. /balkaneu.com/