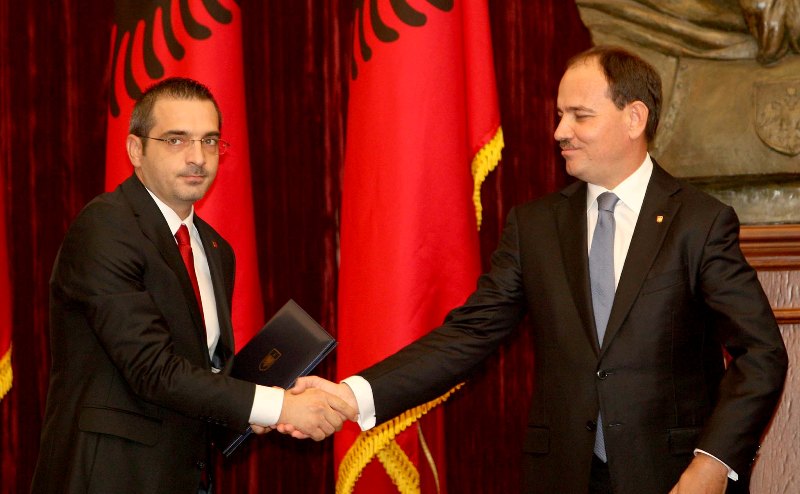 Tirana, March 18, 2014/Independent Balkan News Agency
Relations between the Presidency and Government in Albania are increasingly reflecting the great differences as a result of the political parties that they represent. The government claims that the heads of several institutions who were appointed during the time when the country was governed by the right wing, are hindering the work for the improvement of public order, while the head of the state suggests that there should not be verbal conflicts.
On Tuesday, March 18, 2014, the President of Republic, Bujar Nishani received in a meeting the Minister of Interior, Saimir Tahiri upon the request of the latter.
Tahiri submitted to Nishani several claims that relate to institutional cooperation in the framework of the fight against organized crime. The declarations launched by the two sides following the meeting clearly indicated that the meeting between them was cold and filled with accusations from one side and denial from the other.
The president valued cross institutional cooperation and trust, especially in the fight against organized crime and traffics. He said that "he advised the Minister of Interior that he should avoid verbal conflicts with institutions, especially in the context of law enforcing commitments".
During this meeting, the president has suggested for important constitutional institutions of the country specializing in the domain of security to be exploited by State Police, in order to fight corruption and traffics.
Minister Tahiri's perspective is gloomier. "President of Republic must be positioned above the parties and must encourage institutional cooperation. I believe that it would be better if the president moderated cooperation between institutions rather than neglect the truth".
Tahiri's accusations originate from several weeks ago when he declared that secret services had provided no information on the numerous bombs exploded in the recent months in many regions of the country.
Tahiri accused that the head of secret services had provided "zero information". Mr. Nishani responded to this declaration by saying that it was quite the contrary. According to the information that the president had received from secret services, it resulted that the government had been fully informed on these bombs.
Rejecting Nishani's claims, Mr. Tahiri said today that the truth indicates the contrary. "I provided the president with the full file where I believe that he will see that institutional communication is far from the declarations that the president has issued".
Like Nishani, Tahiri too said that the citizens expect concrete results in the fight against organized crime, terrorism and corruption.
Bomb attacks have recently spread in Albania at an alarming rate. Almost everyday and sometimes several times a day, blasts take place in several areas of the country. In the majority of cases, the damages have only been material, but these attacks have caused a feeling of insecurity in the country.
Many people say that they feel unsafe, especially due to the fact that the majority of bombs are put on cars.
Recently, people have been seen checking their cars before they get on it. State Police says that it's working to prevent these bomb attacks. Nevertheless, they continue. In several cases, the explosive substance has also been put near a police station or a municipality like it happened in the recent hours in Fushe Kruje. /ibna/