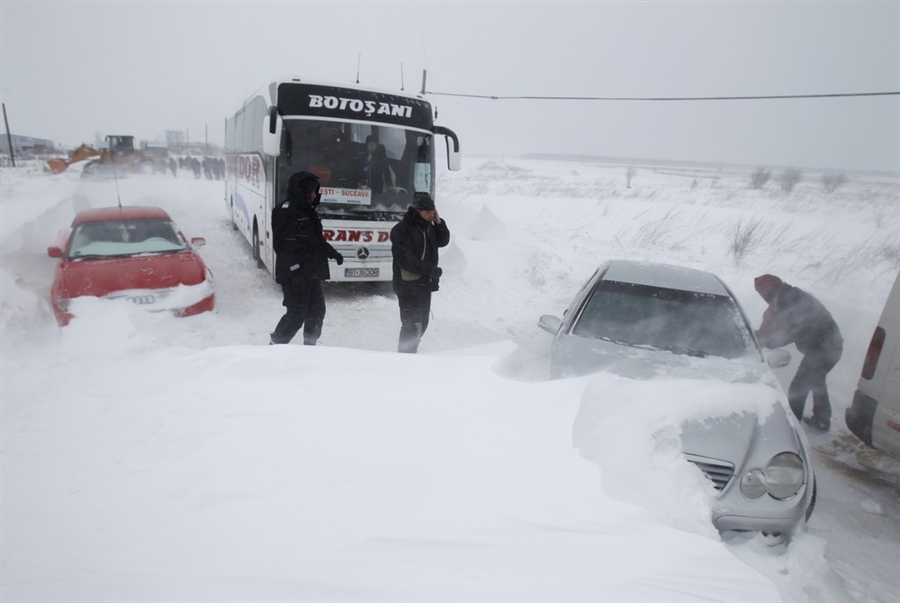 Seven counties are under a Code Red warning for snowfalls and blizzards from meteorologists: Constanta and Tulcea until 18:00h, Vrancea, Buzau and Braila until 16:00h, Calarasi and Ialomita until 13:00h.
Also, half the country is under Code Yellow and Orange alerts for snow and blizzard. Code Yellow is valid until Friday at 20:00h, during which in many counties significant snowfalls will be registered as well as local and blizzard.
The Orange Code will be available until 18:00h for the counties of Galati, Giurgiu, Ilfov and Teleorman, including Bucharest.
Cernavoda NPP Unit 1 – disconnected
The blizzards have caused cable problems for Transelectrica, so that Unit 1 of the Cernavoda Nuclear Power Plant has been disconnected Friday morning.
Nuclearelectrica representatives say the problem was caused by unfavourable weather, adding that "the plant's systems work properly and there is no impact on the reactor, on the environment and on people."
Cernavoda NPP produces more than 15% of the national consumption of electric power, hence the production has fallen to half, as only Unit 2 is fully functional.
Roads closed
According to meteorologists, there are affected roads in Buzau County Buzău (Pogoanele, Brădeanu, C.A. Rosetti, Cilibia, Florica, Glodeanu Sărat, Glodeanu-Siliștea, Largu, Luciu, Padina, Rușețu, Scutelnici, Smeeni), the southern part of Braila County (Făurei, Ianca, Însurăței, Bărăganul, Berteștii de Jos, Bordei Verde, Ciocile, Cireșu, Dudești, Frecăței, Gropeni, Marașu, Mircea Voda, Roșiori, Stancuța, Surdilă-Găiseanca, Surdila-Greci, Traian, Tufești, Ulmu, Unirea, Victoria, Viziru, Zăvoaia), in most of Ialomița County, in the western part of Constanta County (Cernavodă, Hârșova, Adamclisi, Aliman, Ciobanu, Cogealac, Crucea, Gârliciu, Ghindarești, Horia, Ion Corvin, Lipnița, Mircea Voda, Oltina, Pantelimon, Peștera, Rasova, Saligny, Saraiu, Seimeni, Siliștea, Târgușor, Topalu, Tortoman, Vulturu) in Călărași  County (Călărași, Budești, Fundulea, Lehliu Gara, Alexandru Odobescu, Belciugatele, Borcea, Cuza Voda, Dichiseni, Dor Mărunt, Dorobanțu, Dragalina, Dragoș Voda, Frăsinet, Grădiștea, Gurbanești, Independența, Jegalia, Lehliu, Luica, Lupșanu, Mânastirea, Modelu, Nana, Nicolae Balcescu, Perișoru, Roseți, Sărulești, Sohatu, Ștefan cel Mare, Ștefan Vodă, Tămadau Mare, Ulmu, Unirea, Vâlcelele, Valea Argovei, Vasilați, Vlad Țepeș) and in the south-western half of Tulcea County (Babadag, Baia, Beidaud, Casimcea, Cerna, Ciucurova, Daeni, Dorobanțu, Hamcearca, Horia, Izvoarele, Mihai Bravu, Mihail Kogalniceanu, Nalbant, Ostrov, Peceneaga, Sarichioi, Slava Cercheza, Stejaru, Topolog, Turcoaia). Wind gusts of about 85km/h are expected in the coming hours with close to zero visibility.
Roads in four counties, closed
Road traffic is totally restricted in the Counties of Calarasi, Constanta, Braila and Ialomita, the areas affected the most by blizzard, the Press Office of the Inspectorate General of the Romanian Police (IGPR) informs.
According to the source, there are 1.5-2 metre-high snow banks, the wind gusts at speeds of 70-90 km/h, and visibility is below one metre.
In Prahova County, the access road to the Cota 1,400 chalet will be closed because of snow.
In Galati County, DN 22 B Galati — Braila and DN 24 D Galati — Vaslui roads have been closed.
Ports at Black Sea, A2 motorway and other roads, closed
All ports at the Black Sea have been closed for traffic on Friday, starting 01:30, as well as A2 motorway, the sector between Bucharest and km 144, DN5 Bucharest – Giurgiu, and 27 trains on the route Bucharest – Constanta have been cancelled because of adverse weather, according to the Inspectorate General of the Romanian Police (IGPR).
Moreover, a flight was cancelled on the route Bucharest — Istanbul.
To manage the weather phenomena, in addition to the current teams, a number of 2,662 police officers acted with 1,842 devices, the Press Office of the Inspectorate General of the Romanian Police (IGPR) points out.
Other closed roads:
In Buzau County, car traffic was closed on the following roads: DN 2B Buzau — Braila, DN 22 Ramnicu Sarat — Braila, DN 2 E85 Buzau — Ramnicu Sarat, DN 2C Buzau — Slobozia.
In Vrancea County, the DN 2N Bogza — Dumbraveni, DN 23A Gologanu — Ciorasti, DN 23B Maicanesti — Ciorasti have been closed for traffic, and in Braila County, DN 2B Buzau — Braila and DN 22 Ramnicu Sarat — Braila.
In Teleorman County, national road DN 51 Izvoarele — Zimnicea is closed on the way to Zimnicea.
Trains cancelled, delays in airport operations, problems in electricity supply in Constanta County
Several trains register delays due to the weather conditions, CFR SA informs. Some 60 trains (InterRegio și Regio) have been cancelled for Friday for routes in south-eastern Romania.
Flights from Otopeni (Henri Coanda) Airport near Bucharest register delays of 30-60 minutes. The airport's spokesperson said the situation is good, considering the current conditions. Nevertheless, a Ryanair flight from Timisoara to Bucharest was cancelled, as well as two Tarom flights Iasi-Bucharest and Oradea-Bucharest and back.
In Constanta County all national and county roads have been closed. More than 75 localities (three quarters of the county) have no supply with electricity. Kogalniceanu Airport is also closed.
All seaports are closed on Friday due to strong wind.
The Romanian Ministry of National Defense is ready to make an emergency intervention countrywide if the central and local authorities ask it, with over 2,600 military and around 400 vehicles, five helicopters and an aircraft of the Romanian Air Forces./IBNA
Source: romaniajournal.ro