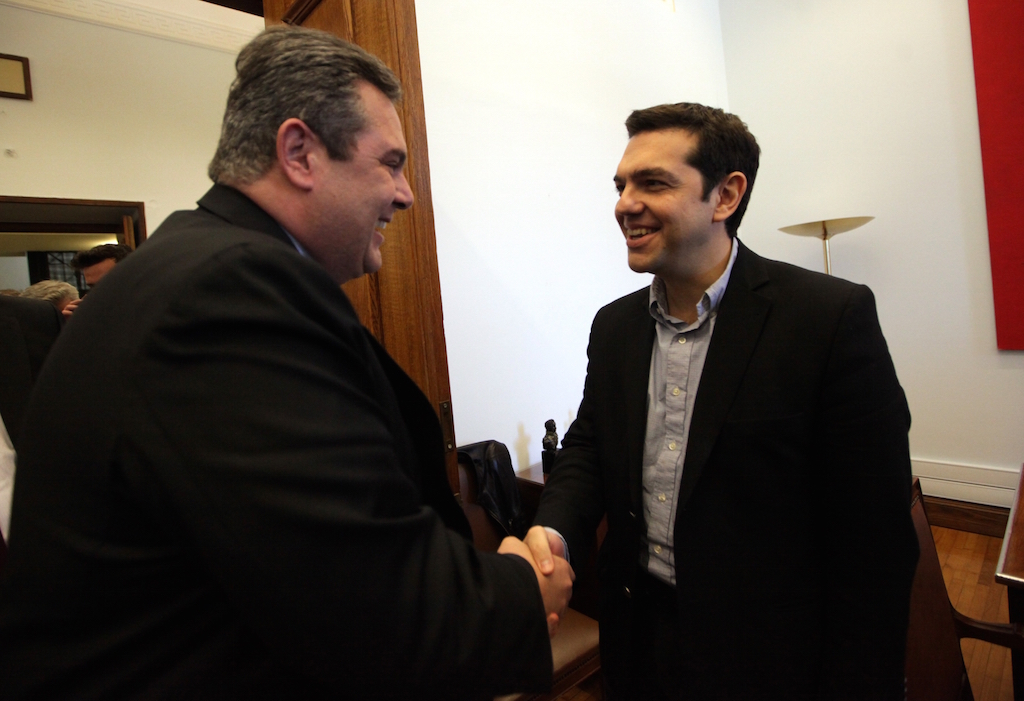 Prime Minister Alexis Tsipras and Independent Greeks leader Panos Kammenos met
on Tuesday
to dispel rumours that a rift in their relationship has emerged, that could bring the government down.
Officially, the two men discussed the issue of the two Greek soldiers being held in a Turkish prison. Kammenos has maintained that Turkey is holding the servicemen "hostages", a view with which SYRIZA disagrees.
Speaking to reporters after the meeting, the junior coalition partner made a brief statement. "We will continue together with SYRIZA and Alexis Tsipras until the end", Kammenos said.
He went on to say: "The main aims of this government were two: for Greece to exit the memoranda and stop giving away sovereignty to creditors; and the second was catharsis. We are pleased to say that both of the targets we set at the beginning of our coalition are close to fruition. We will very soon see the Greek people depart the MoU-era. On the second aim, the one of catharsis, through our honest collaboration, cases are no longer shelved and Justice has the full support of government to examine scandals. For these two aims, our coalition will continue until the end – in spite of the scenarios that emerge – with respect to different opinions and red lines that we have set from the start."
Earlier, after chairing a meeting of the Independent Greek parliamentary group, Kammenos made a similar statement, stressing that the coalition government will "continue until the end".
However, the Defense Minister appeared to insist on his views which led to the speculation of a rift in the coalition in the first place. He continued to insist the Greek soldiers are hostages. He said the matter remained bilateral, but one that is also acquiring international dimensions in venues such as the EU and NATO.

 

Meanwhile, on the fYROMacedonia name issue, he reiterated the need for the neighboring country to change its constitution.
Local media reports suggest the coalition partners may have moved quickly to prove their cooperation is solid, however, an "accident" leading to an early election can never be ruled out, especially as long as the Independent Greeks party continues to drop below the 3 percent threshold for entry to parliament in opinion polls…. / IBNA