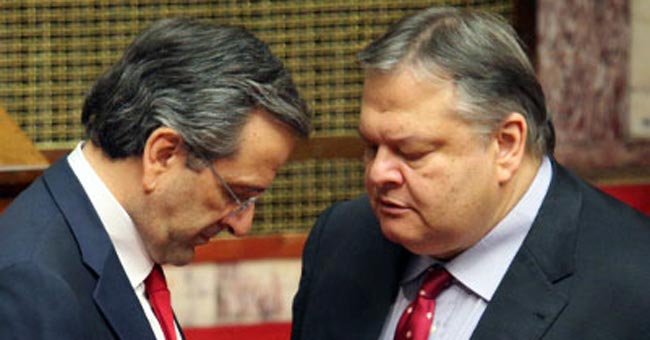 By Lefteris Yallouros – Athens
As Eurostat released data on Wednesday showing Greece's public debt reached 169.1 percent of the country's GDP in the second quarter of 2013, Prime Minister Antonis Samaras and coalition partner Evangelos Venizelos agreed on their stance vis-à-vis the troika in upcoming negotiations.
Samaras and Venizelos finalized the coalition government's policy pact while agreeing to resist pressure from the country's international lenders to impose fresh (horizontal) austerity measures in 2014. They also agreed that the government will see out its four-year term.
New fiscal measures that further reduce wages and pensions are deemed unacceptable by the coalition government. The New Democracy and PASOK agreement vows to stick with structural changes and reforms that will enable Greece to become a modern, 'normal' European country that serves its citizens, development and the public interest.
Meanwhile, earlier on Wednesday, EU economic affairs commissioner Olli Rehn sent a stern message to the Greek government that any discussion on debt relief will be put off until the summer of 2014. Furthermore, Mr. Rehn hinted that the country's economy will remain under the scrutiny of the troika for as long as Greek debt remains above 75 pct of GDP.
While the Greek Finance Ministry is adamant that the country is hitting targets and is set to reach a primary surplus by the end of the year, Olli Rehn was clear that this will have to be confirmed by Eurostat in the spring of 2014.
So far Finance Ministry figures show a primary budget surplus of 2.632 billion euros in the January-September 2013 period, from a primary deficit of 2.069 billion euros in the corresponding period last year.
While the primary surplus target is critical to negotiations with the EU on Greece's debt relief, the country's government is not prepared to set any ultimatum to its international lenders.
Government sources say the PM is determined to negotiate a deal with EU counterparts that will acknowledge the efforts made by the government and sacrifices made by Greek society that has suffered from six consecutive years of harsh austerity.
A lot will hinge on the composition of the next German government and Angela Merkel's stance on the financial woes of Greece and southern EU member-states in general.