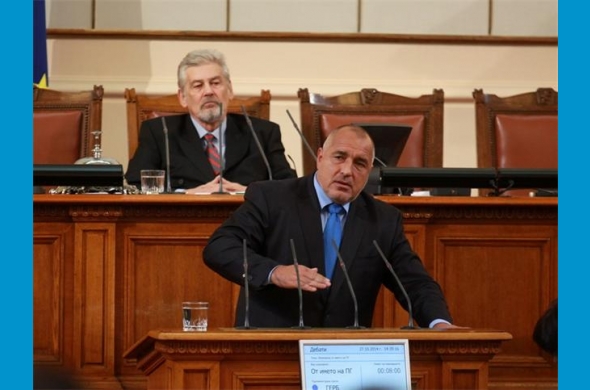 By Clive Leviev Sawyer of the Sofia Globe
Twenty-five days after Bulgaria's October 5 2014 early parliamentary elections, talks on finding a formula to set up a government are continuing, with apparently scant immediate prospect of success.
There has been a bewildering succession of messages, most mutually contradictory, coming from GERB, winner of the largest single share of seats in the newly-elected National Assembly.
Now, pressure for clarity is mounting, on the eve of the beginning of formal proceedings on government formation as spelt out in the constitution. These formal proceedings are to begin on October 31.
Over four working days, head of state President Rossen Plevneliev will hold consultations with seven out of the eight parties elected to Parliament – the exception being ultra-nationalists Ataka, who have said that they will decline to attend.
After these consultations are over, Plevneliev will offer Boiko Borissov's GERB, as the largest party, the mandate to seek to form a government.
It will have seven days to come back with a proposed government to put to the vote in the National Assembly.
Failure would mean the offer of a mandate to the second-largest party, the Bulgarian Socialist Party, which already has said it will not even try. After that, Plevneliev is at liberty to offer a mandate to a third party of his choice from among the six remaining.
If this process does not produce a cabinet that Parliament will approve, Plevneliev would have to dissolve the National Assembly and name a date two months' hence for another early election.
In the days since GERB initiated talks with other parties, Borissov has spoken variously of forming a minority government or of forming a coalition government as broadly-based as possible, although he ruled out involving the Movement for Rights and Freedoms and the BSP – in the latter case, apparently reversing himself in later seeking some sort of deal with the BSP, offering the Speaker's post in return for support.
Vexed issues have arisen from certain parties being unwilling to serve with other parties in government, although here too messages have been mixed or changed in the post-election weeks.
Just one of these issues has been whether to involve the nationalist Patriotic Front.
In first-round talks, the Patriotic Front was the first, if only, party to give a relatively clear message about willingness to be involved in supporting a GERB coalition government.
However, since then, there have been tensions in messages exchanged publicly between GERB and the Patriotic Front.
More recently, GERB has come under pressure from partners at EU level not to work with a coalition seen as xenophobic and espousing other "anti-European" values. On October 29, Borissov said that Patriotic Front co-leader Valeri Simeonov's speech at the opening of Parliament had made it clear that the front's values did not make it a suitable partner for a GERB government.
Perhaps most vexed of all has been relations with the centre-right Reformist Bloc, which has been caught up in internal battles over working with GERB and on top of that, has altered its stated position on a coalition.
At first apparently uncomfortable about being part of the same deal with the Patriotic Front, the Reformist Bloc – just as Borissov spoke of a bilateral minority cabinet of GERB and the Reformist Bloc – spoke of wanting a tripartite majority government of GERB, the Reformist Bloc and the Patriotic Front.
Further talks on October 29 between GERB and the Reformist Bloc again came to nothing, and GERB negotiators said that the bloc had been given until November 3 to make up its mind.
Borissov said on October 30 said that GERB would continue to work on the issue of a government, "Thursday and Friday, and on Saturday and Sunday".
He said that he had sent his most suitable negotiators to work with the Reformist Bloc.
Borissov said that he would take part in negotiations with the bloc, "when it makes sense".
He said that he was ready even to sacrifice his own party to come up with a stable government.
GERB negotiator Tomislav Donchev, speaking after three hours of talks with the Reformist Bloc, said that talks were still at a first stage, and added that a government should have a clear purpose and programme.
If by November 3, there was no finalisation, he would be "extremely pessimistic" about the end result, Donchev said.
GERB and the Reformist Bloc were continuing to work through comparisons of points in their respective programmes, but Reformist Bloc parliamentary group co-leader Meglena Kouneva said that "until everything is agreed, nothing is agreed".