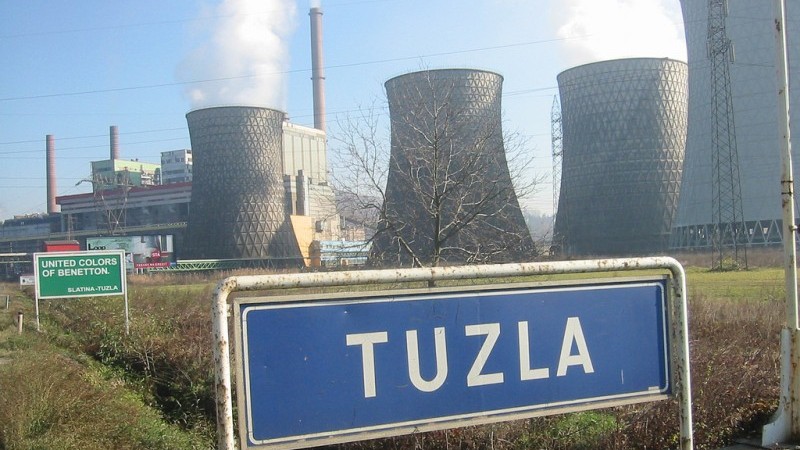 Energy and all its components are discussed more and more in the EU and are concerning nations which aspire to join the bloc. One of the most problematic cases in this story is Bosnia and Herzegovina. Constant studies of latest years sound the alarm and warn of the dangers to people's health and the environment's destruction.
And since the next EU chair (first half of 2018), Bulgaria eyes projects -energy among them- that will bring Western Balkan countries closer to their accession aim, the situation in BiH should be of sharp foreground focus, without letting anything of close connection (with it) go blurry.
A bit more than a year ago, sad news hit BiH's door. News that no one outside or away from the specific country should consider as irrelevant as, unavoidably, the air we breathe is common for all of us. After all, horrible examples of this fact are the long-term consequences of two major tragedies, the Chernobyl nuclear disaster of 1986 and the 2011 Fukushima energy accident. Because of them, numerous societies, not only in the countries where the accidents happened, are still experiencing health and nature shocks. So, "The unpaid health bill, How coal power plants in Western Balkans make us sick" report of 2016 (Health and Environment Alliance) which focused on the Balkans, entailed a bitter truth as regards to BiH. Out of a total of €8.5 billion in health costs per year from Balkan coal plants, up to €3.1 billion are spent on annual health damages in Bosnia and Herzegovina.
Photo: Shutterstock
Clean energy solutions, decarbonisation, economic growth, jobs, fresh air, clean water, waste-free wells, lakes and rivers, coal smog-free environment. All of them forgotten words, empty of meaning and importance for Bosnia and Herzegovina and more specifically for inhabitants of areas where power plants that still use coal are located.
A "cursed" place where the air is no boon to civilians' lungs is Divkovici village, near the city of Tuzla. Lung cancer is a top health condition locals are dying of. Speaking to Euronews in 2016, Goran Stoyak, the spokesman of the Tuzla local community had then said, "People living here are doomed. This village will be a ghost town in a few years".
According to the 2016 Euronews report, "The finger of suspicion points towards the Tuzla power plant. Waste from its coal combustion is discharged just outside the village (…) Tests carried out by an independent laboratory have shown high concentrations of heavy metal residues lying deep underground (…) In dry weather, the wind blows particles of toxic soot to peoples' homes."
Admittedly, coal is the most toxic and harmful fossil fuel and BiH has not been able to meet basic obligations of the Energy Community Treaty's mission -a contracting party of which is Bosnia and Herzegovina since 2006.
Even now that this article is written, there are major coal-fired power stations in the country:
The Gacko Thermal Power Plant
The Kakanj Thermal Power Plant –whose 300m chimney is one of the largest man-made structures created in former Yugoslavia
The Stanari Thermal Power Plant, 70km from the city of Banja Luka
The Thermal Power Plant in Tuzla
and the Ugljevik Power Plant
As regards to the Stanari Thermal Power Plant, various regional NGOs' statements issued in 2013, spoke of "an alleged lack of appropriate environmental assessment" suggesting the plant "would fail to abide by EU directives and minimize harmful impacts on the environment. This resulted in a complaint to the EU's Energy Community Secretariat, which however rejected the complaint, finding that, by contrast, 'the authorities of Republika Srpska conducted a proper environmental impact assessment procedure'" (EU Energy Secretariat, 2015 Implementation Report, Bosnia and Herzegovina Country Report p. 76).
Photo: Daniel Jablonski
"Using coal to create electricity adds very significantly to air pollution, which is a major health risk in the Western Balkans", read the 2016 report on coal use in Western Balkans. It went further to explain that, "The Ugljevik plant is the most polluting plant in Europe for emissions from sulphur dioxide (SO2) followed by the Kakanj and Tuzla plants. Sulphur dioxide is of particular concern for health because it reacts in the atmosphere to form particulate matter, which causes a range of health impacts."
Hopefully, the Bulgarian presidency will make a change by managing -if not to shut down damaging units, at least- to convince fellow Balkan states, and BiH in particular, to review the harmful effects of coal-fired plants. Also, summits like the 16+1 between China and Central and Eastern Europe of government heads, that took in Budapest three days ago can, as proved, practically boost ties among states towards a better life for their people. Speaking of Bosnia and Herzegovina, the positive news of a deal between the state and China reached the public by a Bosnian utility EPBiH statement, that said the country secured a 613 million euro loan from China's Exim bank . The loan will help EPBiH "build a new generating plant at its Tuzla coal-fired power station", reports Reuters. The deal was signed in Hungary, during the summit…/IBNA
Main Photo: Steffen Emrich/Flickr