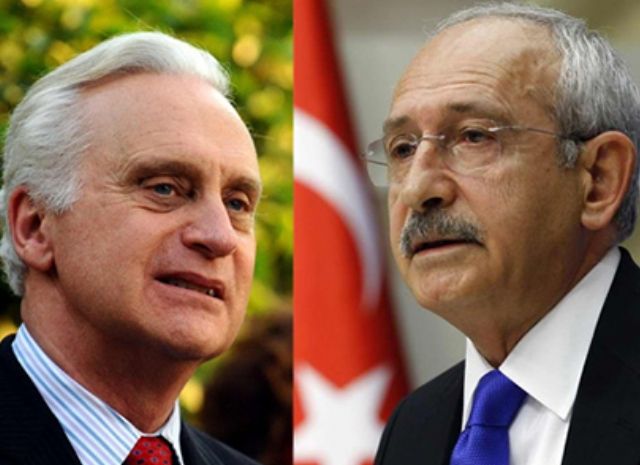 By Manolis Kostidis – Ankara
The US appears to be broadening communication channels with Turkey's main opposition party. Following a secret meeting in Ankara between Republican People's Party (CHP) leader Kemal Kilicdaroglu with US Ambassador to Turkey Francis Ricciardone, it was announced the former will visit the US.
The CHP leader will reportedly visit the US from November 30th to December 3rd. Interestingly, the visit will be Kilicdaroglu's first since elected CHP president in 2010. Sources say the CHP leader will many members of Congress, media representatives, lobbyists and of course many members of Turkish associations operating in the States.
The news wouldn't be as impressive if it didn't follow the secret meeting between Ricciardone and Kilicdaroglu.
The meeting, which lasted 2.5 hours, focused on the latest political developments and Kilicdaroglu's upcoming visit to the US. Amongst issues discussed was the Gezi park incidents as well as developments in the Middle East – and especially Syria – and Turkey-US relations. However, nobody else was present in the meeting aside from the two men and a translator.
The CHP leader hadn't informed anyone of his meeting with the US Ambassador.
In Turkey it is believed the US are trying to send the Turkish government a message while searching for alternatives to Erdogan whose decision to buy Chinese anti-aircraft missiles and bad relations with Israel don't seem to comply with the policy of Washington and NATO.