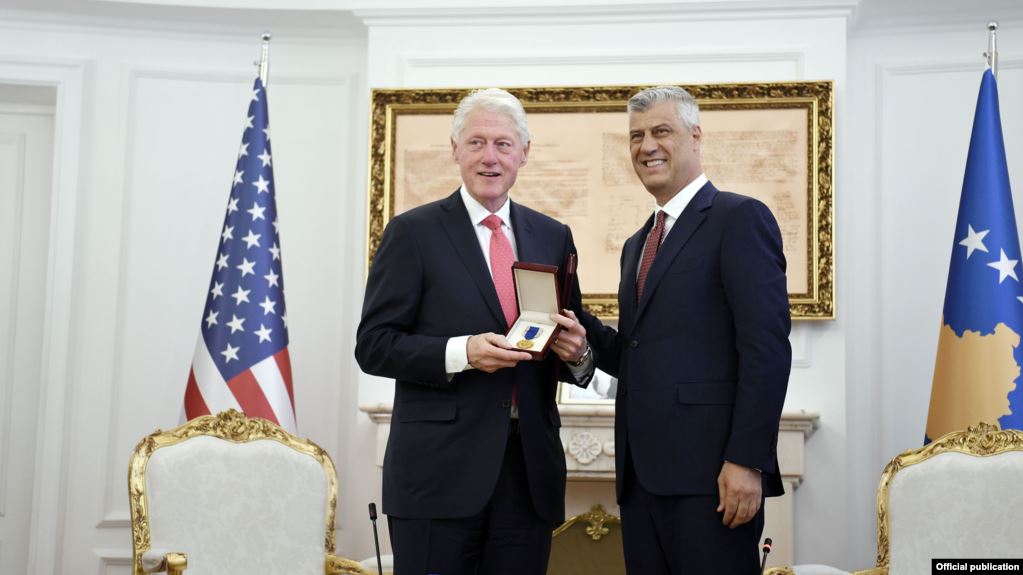 Former US president, Bill Clinton said on Tuesday in Pristina that Kosovo deserves integration in the European Union and NATO, expressing his conviction that the US will continue to fully support Kosovo in its journey ahead.
"I think Kosovo deserves to be part of the European Union, NATO and every other organization that an independent state can be part of. I was very happy that my successor, president Bush, recognized Kosovo and its independence. Although there's an atmosphere of political uncertainty in the US, Kosovo seems to be the only thing that all Americans agree on. Therefore, I wish you all the best and I believe my country will continue to support you in your way ahead", former president Clinton said.
The former president made these comments after a meeting with Kosovo's president, Hashim Thaci who awarded him with the "Order of Freedom" medal for his contribution in the liberation of Kosovo.
Former president Clinton said that the whole world must take Kosovo as an example of democracy and commitment to moving forward and living in peace with all neighbouring countries.
Clinton was also received by Kosovo's PM, Ramush Haradinaj, who, after the meeting posted a Tweet saying: "Thanks to your determination, humanity and bravery, we realized our fright for freedom and democracy."
Former President Clinton and former US Secretary of State, Madeleine Albright are in Kosovo to attend the activities taking place to mark the 20th anniversary of NATO's intervention, which put an end to the war in Kosovo which lasted for almost two years. /ibna/