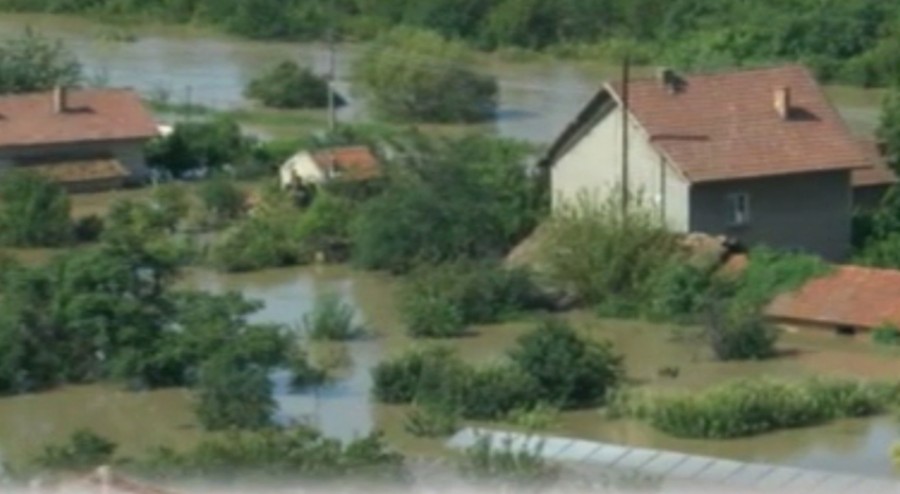 By Clive Leviev Sawyer of the Sofia Hlobe
Bulgaria's Kristalina Georgieva, the European commissioner for international cooperation and crisis response, was due to visit on August 13 the town of Mizia in north-western Bulgaria, where clean-up efforts are still underway 11 days after the flash floods that killed two people and left most of the town under water.
Georgieva and Bulgaria's caretaker Interior Minister Yordan Bakalov would visit the town to assess the progress made so far, as well as the damage caused by the floods and the situation of local residents, displaced by the natural disaster, the Interior Ministry said.
Parts of the town still remain flooded as the high level of subterranean waters is preventing the natural drainage of flood waters, local authorities have said.
The preliminary damage assessment showed 400 houses had collapsed as a result of the flooding, with 500 families currently having no place to live, Mizia mayor Violin Kroushovenski was quoted as saying.
Kroushovenski told Bulgarian National Radio (BNR) that the flash floods could not have been caused by torrential rain alone, saying that the presence of large fish found in the town was proof that some of the water came from busted dams elsewhere in the Vratsa district.
The town's location had the lowest altitude in the Vratsa district and acted as a collection point for waters from the entire region, he said. "I have appointed a committee and I have been handed all the photo evidence, which I will turn over to the state institutions. The busted dams are not on the territory of our municipality," Kroushovenski told BNR.
Vratsa district governor Ventsislav Vassilev, however, denied the claims made by the Mizia mayor. Vassilev told BNR that the latest inspection of dams in the Vratsa district, carried out two weeks before the flooding, found no dam breaches.
The town is still relying on food and drinking water being brought in from the outside, as well as cleaning and disinfecting supplies. The clean-up efforts have been aided by volunteers and municipal workers sent by other municipalities in the Vratsa district.
The continued presence of flood waters has hampered the damage assessment efforts, with no clear estimate of the damages caused by the flooding available yet.
Bulgaria has been hit by heavy torrential rains for most of this summer, which have caused flash floods in various locations across the country. Authorities in Sofia estimated the total damages caused by floods so far this summer at 500 million leva, or 255.6 million euro – but the figure is expected to go up once the damages in Mizia have been tallied up.