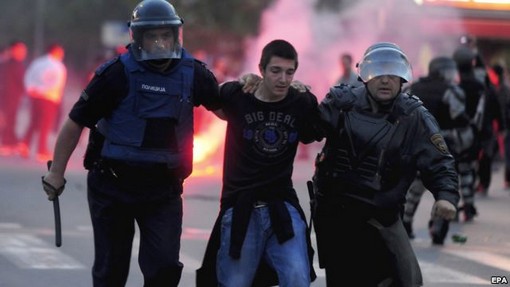 Skopje, June 2, 2014/Independent Balkan News Agency
By Naser Pajaziti
Ministry of Interior (MoI) in Skopje says that it has indicted 7 people who are suspected for their involvement in acts of violence and hooliganism a few days ago. The events in question relate to the protests in Skopje, which resulted in the burning of many private businesses, mainly belonging to Albanians in the "Gorce Petrov" quarter. The incidents were registered during the protests that followed the murder of a Macedonian young man, who was killed by an Albanian fellow teenager.
Minister of Interior, Gordana Jankulovska says that the 7 young men have been indicted. The young men are aged 15 to 17. She said that the teenagers have been identified as authors of the burning and destruction of several bars whose owners were Albanian and other objects in this quarter of Skopje, where the murder of the 15 year old Macedonian young man, Angel Petkovski took place.
"These people have violated law and order, by perpetrating vandal acts. The information concerning them have been secured from footage during the protest. A part of them have also been involved in attacks against police forces which were trying to maintain order in the May 20 protest", said Jankulovska.
The owners of the bars warned a protest to demand compensation for the damages that were caused, but this protest was canceled. Jankulovska said that the damages against these businesses have been assessed. She declared that the government will compensate them. Attacks against the properties and bars belonging to Albanians were carried out as a sign of revolt against the killing of a Macedonian young man, which sparked cross ethnic tension. /ibna/