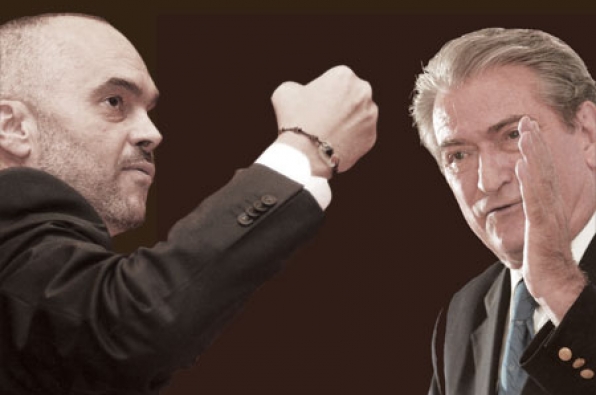 By Edison Kurani
Trans Adriatic Pipeline project (TAP) is considered to be one of the biggest investments in the past 23 years in Albania and the start of its construction works is seen as a good omen for the Albanian economy. The expected investment cost is at least 1 billion Euro, while thousands of new jobs are expected to open in different regions of Albania.
In the political aspect, TAP has not been politicized a lot and majority and opposition have often commended each other on this project. When it was in opposition, current majority did not criticize the efforts made  by former premier Sali Berisha on TAP. Now that it's in power, it praises the efforts which have been done.
A question is naturally raised now that construction of TAP infrastructure has started: What measures will the government take in gasificating Albania? Or will the country merely act as a transit area for the gas destined to other countries linked to this project?
The dark side of the communist regime continues
The truth is that Albania doesn't have its own network of household gas supply.
This was never achieved during 50 years of communist regime. But, the worst happened in the past 23 years. Hundreds of new apartment blocks have been built throughout the country, but almost none of them have gas supplied central heating.
It would be easier for government and local authorities if this took place, had they demanded from different construction companies to include central heating when building these new apartment blocks. But this was not done and Albania today is a high consumer of electricity, as heating with gas or wood is very modest.
This is why power supply has been problematic in Albania for many years. Power supply has been lacking several hours on a daily basis. Although the situation has improved, Albanians often continue to suffer shortages of power supplies in their homes. This causes a lot of difficulties in their day to day life, as electricity is the only means for lighting, heating and cooking.
Although the state is well aware that energy cannot be secured on time and at a lower cost, on the contrary, in some cases at a higher cost, nothing has been done to offer other alternatives.
One good alternative would be liquid gas for cooking and heating.
Is TAP excluding Albania?
PM Rama says that the advantage of the agreement that the last government signed was the inclusion of Albania in the TAP project and congratulates the former Premier Berisha for his efforts.
But Mr. Rama raises a concern: Having an inside knowledge of the situation, and judging by the agreement endorsed by Albania and other countries, the former government has made the most discriminating agreement possible for our country. Hence, it hasn't managed to come to an agreement, in which Albania would be as beneficiary as the other countries participating in the project", says Mr. Rama adding that: "The former government has done nothing to enforce the gasification of Albania into the agreement".
Regarding the possibility of resolving this problem, Mr. Rama says that: An agreement is legally binding. We'll do whatever it takes to make up as much as we can, but we can only apply what has been signed for".
Berisha: We can secure gas supply once the network is up and running
In an interview for IBNA, asked as to how he sees Rama's perceptions, former premier Berisha says that this is sheer ignorance on Rama's part and adds that: "TAP is the transport system of gas from the Caspian sea to Italy. Gasification is an entirely different process, such as electrification. Thus, the country must build its own network of gas distribution. TAP has nothing to do with this".
Asked by IBNA if the government that he led for 8 years had planned gasification of the country, Mr. Berisha says: "Yes, we announced that the next 4 years (2013-2017) would be the years of the gasification of Albania and we had this as part of our project. We asked our TAP partners to help us. Albania demanded to its partners to carry out a feasibility study. EON, the largest German company and SOKA have been carrying out a feasibility study for Albania. At that time, we asked the Azerbaijani government to help us with a master plan for the gasification of the country. I don't know if Mr. Rama continues with these talks, but these talks have been held, because there's been a cross government committee for TAP and all documents are available".
Mr. Berisha also responds to the current prime minister's accusation of not securing gasification for the country. "In the agreement, we demanded for gas supply to be guaranteed. Rama says that gas supply has not been guaranteed, but this is not true. He hasn't read the agreements, because Albania's gas supply is part of the agreement".
Kosovo is left out
Prime Minister Edi Rama says that, "The last government has done nothing to include Kosovo in the TAP agreement". Rama claims that this is the government's objective and that this will be achieved.
But, Mr. Berisha seems to be more informed on the issue of Kosovo. In an interview for IBNA, he explains the reasons why Kosovo was left out: "Albania has discussed with the Azeri authorities about Kosovo. Those who follow politics, know that Azerbaijan has only one problem and this is Nagorni Karabak (Nagorno Karabakh). This problem dictates the reluctance in recognizing Kosovo. Azerbaijan is a friendly country to Albania and Kosovo, but due to this problem, they cannot recognize the independence of Kosovo. I have declared this, they have declared this. I have discussed this in every meeting that I've had with their president, but this is their reality. Will Kosovo benefit from this gas? I'm convinced that in the future it will, but Azerbaijan cannot include a country which it has not yet recognized in this project. We must not make political speculations".
After advising Mr. Rama not to show immaturity on the issue of Kosovo, former PM Berisha offers another challenge to the current PM: "Let him go to the Azeris and convince them on this issue!"/ibna/