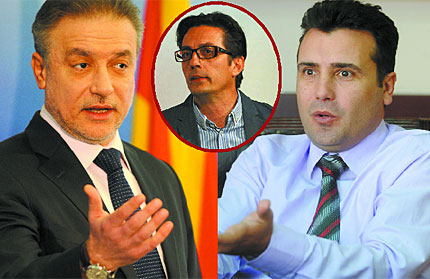 Skopje, May 8, 2014/Independent Balkan News Agency
By Naser Pajaziti
After the Macedonian opposition warned a dynamic campaign not to recognize the elections and be a strong opposition, the first clashes for the leadership of the party have been seen within the biggest opposition party LSDM (Macedonian Social Democratic League).
This situation has started on the verge the party's congress on May 11, where there will be an analysis on the April 27 defeat and further steps of this party, including the possibility of the resignation of the steering committee and the leader, Zoran Zaev.
Everything has started yesterday with the veteran leader of this party, Branko Crvenkovski, who in an interview for Deutsche Welle said that the current social democrat leader must step down following the defeat in the elections.
"LSDM is suffering a deep crisis, one of the most serious ones since the creation of the party. It will be very difficult to have a rapid consolidation and to achieve unity in order to motivate the membership and encourage the citizens. Resistance is not made in offices and press conferences. For this reason there must be more credibility and greater unification capacities. There must be a greater authority to overcome party's structures. And to be direct, neither  myself, nor Zaev can be the solution to this situation", declared Crnvenkovski, demanding Zaev to step down and changes in the party's steering committee in the next congress.
But, Crvenkovski also mentioned the successor of the head of the party and for this, he suggested the presidential candidate of the Macedonian opposition, Stevo Pendarovski, who according to him, must be the next social democrat leader.
The current leader of LSDM, Zoran Zaev rejected Crnvenkovski declarations, by saying that the positioning of the former leader is seriously damaging LSDM.
"Given that we're ahead of the party congress, Branko Crnvekonski is being positioned at the detriment of the party. I have talked with our presidential candidate, Pendarovski and he hasn't expressed any ambitions for the leadership of the party and that he will remain with us in the battle against this government", said Zaev.
Part of these debates was also the presidential candidate, Stevo Pendarovski, who said that he was astonished by the declarations of the leader of LSDM, Zoran Zaev.
"I'd like to publicly declare that in the recent days, I have not had any meetings with Zaev or Crnvenkovski for that matter about my further political engagement. I'm not part of the LSDM party structure and I want to be distanced from all the events taking place in this party until the May 11 Congress. I would like for my name not to be involved for calculations within the party", declared Pendarovski.
Pro government media have dedicated a lot of space to such disagreements taken place within the biggest opposition party, which has undertaken a political battle by not recognizing the elections and by giving up on the MP mandates won in the April 27 elections.
LSDM is the first party of pluralism which was converted from the Communist League of Macedonia in 1991 when the country declared its independence. The first leader of the party was Kiro Gligorov and he was followed by Branko Crvenkovski who led the party until 2004. Crvenkovski came back in 2008, but he resigned after the 2011 parliamentary elections. Zoran Zaev was Crvenkovski successor. He's also the mayor of Strumica in the eastern part of the country, which is known to be a stronghold of Macedonian social democrats. /ibna/