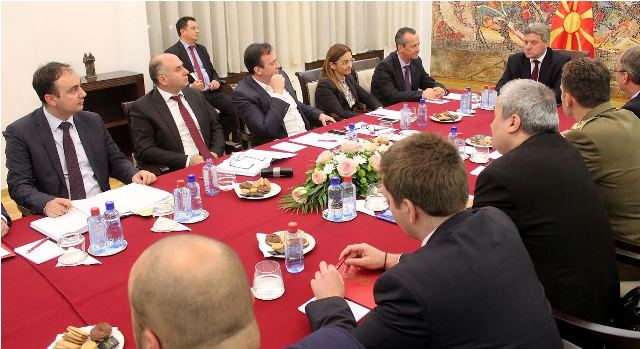 Skopje, April 23, 2015/Independent Balkan News Agency
Governing coalition parties, VMRO-DPMNE and BDI (Democratic Union for Integration) have started to clash and dispute and the cause for this was the meeting of the National Security Council presided by president George Ivanov, where no Albanian representative was present.
This mono ethnic meeting has sparked the reaction of the Albanian party BDI.
This party says that the meeting which was held to assess the security situation in the country and the measures  that should be taken is unlawful for Albanians, because according to this party, Ivanov doesn't represent the interests of Albanians and that he's only a president that represents the interests of one party. The member of BDI steering committee, Talat Xhaferi declared that VMRO-DPMNE, as partner of the coalition, should respect the terms of joint government, by respecting the Albanian legitimate factor.
"VMRO-DPMNE cannot act on its own, because we decide when our national interest is in question. This is why the people have given us legitimacy to govern and in this aspect, we will not betray the vote of the Albanian community", Xhaferi said.
The president's office declared that BDI is known for the fact that it doesn't respect the institution of the president and that the problem is on this party.
The president of the country, George Ivanov said that "BDI has not the right to claim that it's the only party that must represent Albanians in Macedonia".
"BDI doesn't have the exclusive right to represent the interests of Albanians. More than ever, it's necessary to overcome close political and personal interests. To boycott the presidential elections and not to ask for posts and bargain with vital interests of the state, is irresponsible", declared Ivanov.
The absence of Albanian representatives has sparked the criticism of Albanian civil society.
Imer Selmani, former member of the National Security Council told IBNA that the Albanian factor must alert the international community on the behavior of the head of state. "In such situation, every activity must be coordinated with Albanians as decision making factor in the country. We demand that BDI assumes responsibility for the solution of the crisis and the coordination of Albanian factor", Selmani said.
The meeting of the National Security Council was called by the president of the country. During this meeting the incident taken place in the border police post was condemned. and it was decided on boosting security measures in order to preserve stability in the country. /ibna/