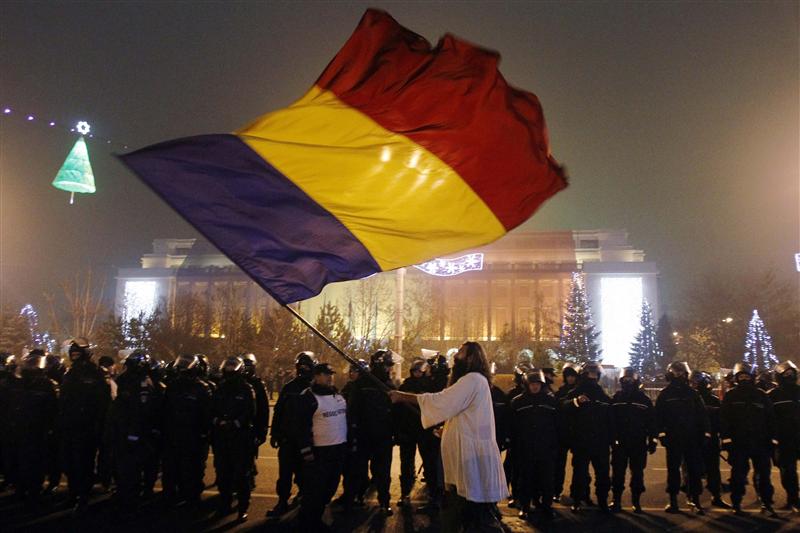 By Daniel Stroe – Bucharest
About 2000 people clashed with police last night in downtown Bucharest in a protest against amendments passed last week by lawmakers and which decriminalize political corruption, in a move that irked the West and the population as well.
The protest started early in the afternoon after a call launched on Facebook. After a couple of hours of peaceful demonstrations, the protesters wanted to change the location and headed towards the seat of the government. The gendarmes tried to prevent them and clashes ensued which continued on the way to the government.
Regrouped in a larger number front of the government premises, protesters called for the resignation of PM Victor Ponta. Clashes erupted again after some of the protesters tried to break the gendarmes' cordon. The riot police used tear gas to disperse the violent protesters whom they blamed to be football fans who threw bottles and stones at the gendarmes.
"Down with the government" and "Ceausescu is not dead, but reincarnated in Ponta" chanted the protesters.
Police also intervened after protesters blocked the road traffic in Victoria Square in front of the government buildings. Four persons were detained for interrogation last night, according to the Romanian police which said it had to intervene to separate the violent elements infiltrated among the peaceful protesters.
Even though the protest was a short one, it signaled Romanians' dissatisfaction with the newly passed measures in the Romanian Parliament and shows a declining popularity of Ponta who assumed the changes. On Tuesday, the so-called "black Tuesday" as the Romania media labeled it, the lawmakers of the ruling coalition amended the Criminal Code in a secretive meeting of the Chamber of Deputies' juridical committee.
The legislative changes, voted without any public consultations, basically decriminalized political corruption and shielded top politicians from being held accountable for crimes such as bribery, abuse of office and peddling of influence.
The amendments came shortly after lawmakers sought to pass a law on amnesty and pardon which would have released from prisons convicts sentenced to up to six years in prison and would have rehabilitated politicians already imprisoned or under advanced stages of criminal investigation. The amendments may spark another crisis in the ruling coalition after the liberals, the junior party, voiced opposition and seek to distant themselves from the unpopular measures.
The protests were organized on the same Facebook platform that brought thousands of people on the streets of Bucharest since September to denounce the cyanide based gold mining project of Rosia Montana, the largest environmental protests in post-communist Romania.