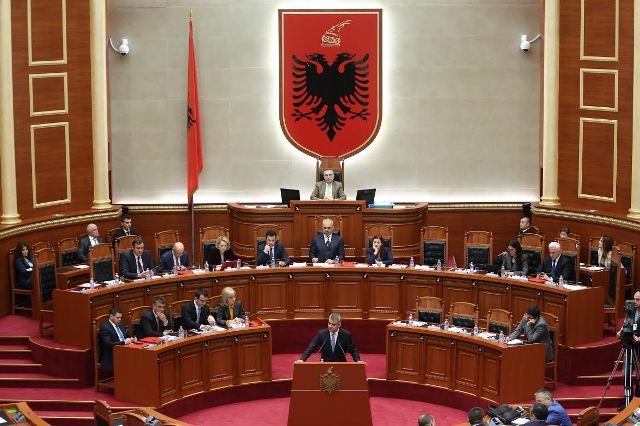 IBNA Special Report
Tirana, December 5, 2014/Independent Balkan News Agency
By Edison Kurani
Heated political debate accompanied by accusations and retorts, and even sarcasm, between the two highest leaders of the Albanian state in relation to the Greek minority.
Leader of the Unity for Human Rights Party, Vangjel Dule, who is at the same time, vice speaker of parliament, called for a motion with PM Edi Rama, in order to be informed about the situation of human rights and minorities and government policies in the framework of integrating processes.
Dule was pessimistic about the state of minorities and to what extent they're respected in Albania.
Meanwhile, the Prime Minister said that "Albania has not had, doesn't have and cannot have a real problem for minorities, but that there's a will to improve legislation in order to support them".
Mr. Dule said that the situation with minorities in Albania and especially with the Greek minority, must not be taken as an example, like PM Edi Rama said during his visit to Serbia and Presevo.
"During your visits to Belgrade and Presevo, where you spoke of an enviable status of the Greek minority in Albania, rights are universal, but you made a mistake. If you guarantee the rights of minorities like you do with the Greeks in Albania, I assure you that this is unacceptable, because these are sanctioned rights and based on International Conventions, they cannot be violated", said Dule.
Rama's retort was insisting: As far as Belgrade is concerned, if there are a few things in which we take pride in front of the world and in front of our neighbors in the north and south, is our behavior with minorities as Albanians, as Albanians in Albania, as Albanians in Kosovo. In these two Albanian states, there's a situation with minorities which doesn't exist anywhere else in the old Balkan and the new Balkan, nowhere in the countries of the region, be them EU member countries, or candidate members, or aspiring to become EU members. Perhaps this is little for you, but this is 100% certain".
In the debate, Mr. Dule spoke about the social-economic side of the Greek minority. The country, he said, requires reforms in all sectors of the life of the country, but we're not seeing such measures being undertaken aiming to redimension the policies of Albania toward Albanians of ethnic minorities. The difficult economic situation that the region is going through, aggravates the members of the national minority even more, something which creates conditions for tensions", said Dule.
But, PM Edi Rama sees a different picture. He said that "in the aspect of the protection of the rights of minorities, nobody can offer a lecture".
Rama also mentioned the difficulties that Albanians have encountered in Greece to be integrated.
"The possibility that the economic situation may cause difficulties on the minority, is a hard argument to be taken seriously. The history of Albanians and Greeks has been a history filled with solidarity, when it came to feeding the Greeks with bread when they abandoned their country in circumstances of a terrible war. Although it has been full of solidarity, when it came for Greeks to welcome Albanians, we all know how difficult of a process it was to accept them with the same rights and the same virtues".
Himara was also part of the debate between Rama and Dule. Dule accused the majority, which he's part of, that the administrative-territorial reform damaged Himara. The head of UHRP said that a local referendum was being prepared in Himara and Lukova. In this point, Mr. Rama demanded for the issue of Himara to remain outside the debate, because as he said, 'it has no connection with the problem of minorities'.
"Himara is like Kukes and Tropoja. You must be interested on Himara as much as you're interested on Kukes in this aspect", said Rama.
But, for Mr. Dule, the government has breached European standards. He referred to the general census of 2012, when this registration breached the standards of the European Council for minorities and the rights of self declaration.
Rama's reaction was resolved: "Himara is not a minority".
"Himara is not an area which must be treated or be seen as an area where the rights of minorities have been affected. In case you have claims for Himara, I would invite you to attach Tropoja, Kukes, Diber, Shkoder, Elbasan and other cities into a package", said Mr. Rama.
The PM admitted that the census has not been held based on European standards. "I'm convinced that that census has not represented like it should have, with integrity and professionalism, today's content of the population in Albania", said Mr. Rama.
According to him, there must be a mechanism of revision away from politics, in order to come up with the real number of Albanians and minorities.
The PM said that "in Albania, nationalism is the last thing that we would want and we never want Albania to be a victim of nationalism". "But, on the other hand, we must agree that we must never offer a cause to nourish the machinery of nationalist hatred".
This is when Mr. Rama launched his warning suggestion. He called on UHRP to change strategy: "I invite you to reflect in order to take your party in a new phase of history, because in the constant effort to offer reasons which are both an alibi and a need to identify the party, you also have your responsibility about the undesired nationalist events on the opposite side". /ibna/