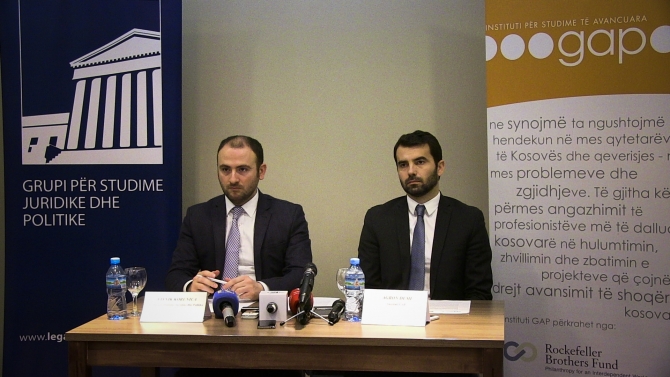 Pristina, December 16, 2014/Independent Balkan News Agency
By Elton Tota
Representatives of civil society, said on a news conference on Tuesday, that many cabinet posts are unnecessary and that they have been appointed in order to satisfy party militants.
One of the recommendations offered by the Group for Legal and Political Studies (GLPS) and Institute for Advanced Studies (GAP) for the new government, is the voting of a bill for the government which limits the number of the government posts.
Fisnik Korenica of GLPS, says that the large number of government cabinets represents a model based on personal interests.
"We believe that this large number of government members not only consists of an extraordinary expense, but also a model based on interests in order to satisfy personal interests. The large number of ministers and deputy ministers is a bad example of a governing culture", Korenica said.
Korenica also said that he's worried about the way that the government was formed without presenting a concrete program in front of parliament.
"We're very worried about the fact that the new government has been voted in parliament without having presented a program in front of parliament. The idea that the government will have a program ready in January doesn't represent a democratic culture. The government had to have its program when it was ready to be voted in parliament", Korenica said.
Korenica also criticized the way that parliamentary committees have been allocated. He said that the majority must not insist on controlling the key committees.
Meanwhile, Agron Demi, executive director at GAP Institute, has expressed his concern about their recommendations for the new government and the promise for the reduction of the number of ministries, which was later forgotten.
Demi who presented the 11 points for the new level of accountability, said that he doesn't expect Mustafa's government to take these points under consideration.
Some of the points mentioned above recommend to the PM tomake all the decisions for the nomination of the deputy ministers public along with the decisions for the salaries of all the government officials, etc. /ibna/