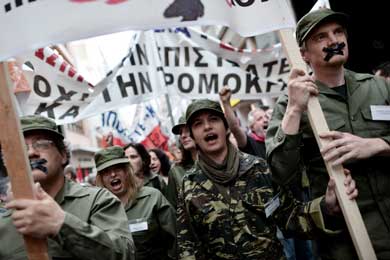 Civil servants are to walk off the job on Tuesday in a bid to express solidarity with secondary school teachers after the government issued a civil mobilization order to force teachers to work on Friday when they had planned an anti-austerity strike.
Civil servants are to hold a rally on Tuesday, starting at 10 a.m. outside the main entrance to Athens University, following a small demonstration in the city center on Monday by teachers. ADEDY has also joined forces with the main private labor union, GSEE, in planning a work stoppage for Thursday, from noon until the end of the workers' shifts.
The government on Monday issued civil mobilization papers to some 88,000 teachers who face arrest and possible dismissal if they fail to turn up for work from Wednesday, when the order comes into effect.