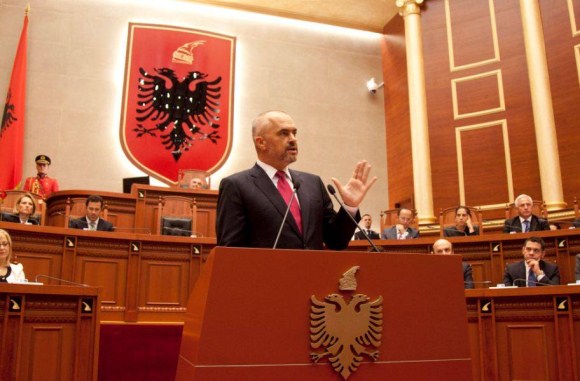 Tirana, October 17, 2013
In today's parliamentary session where the normative act for the Civil Servant is expected to be voted, Prime Minister Edi Rama thanked all lawmakers of the majority for the arguments presented and about the fact that the opposition was not insulted.
He said that all arguments for the normative act were given along with the inapplicability of this bill and the need to change it through a normative act.
"The reasons for the inapplicability of the act were given to us by the directress of the public administration, who didn't represent neither the SP, nor SMI, but yesterday's majority. She gave us in writing all the reasons why we were running the risk of facing an absolute vacuum where the state and the government would not be able to function. We have consulted the project of the EU which confirmed to us all reasons submitted to us by the directress of public administration of this country", said Rama.
Rama added that with 84 seats in parliament, yesterday's majority would have done anything, adding that former Prime Minister Berisha has never demanded unconditional dialogue.
The head of the government stressed that the majority is here to govern and that it has asked for dialogue with the opposition.
According to the head of majority, the normative act for the Civil Servant has the understanding of the European Union, therefore work will continue for a credible administration. /ibna/