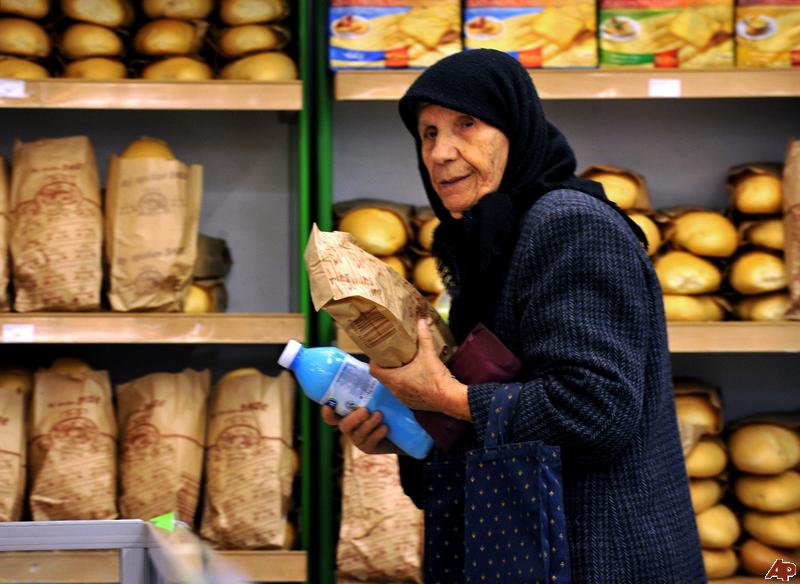 By Naser Pajaziti
PUBLISHED: 17:26, 17 December 2013 | UPDATED: 19:39, 17 December 2013
IBNA Special Report/The phenomenon of poverty and increase of unemployment, the factors that worry the citizens, state, opposition and non government organizations. Amongst those who will be talking will be prime minister Gruevski, former deputy prime minister, Sekerinska, leader of opposition, Zaev, the head of "September 8", Hoxhic, etc.
Skopje, December 17, 2013/ Balkan Independent News Agency
The end of the year holidays in the former Yugoslav Republic of Macedonia are not being welcomed with joy this year, by more than 35% of the population which lives in poverty.
Specialized non government institutions say that unemployment has significantly increased. According to them, 38% of the active labor force is facing unemployment.
Meanwhile, the State Authority of Statistics officially declares that the number of unemployed and poor in the country in the last quarter amounts to 28,8%.
In the recent days, Citizens Incentive "September 8" has launched an initiative to raise the awareness of the public opinion over the situation of poverty and unemployment in the country.
"We live in a state of social injustice although the Constitution guarantees us social rights. Our country has lost the objective of reducing poverty, which has recently seen only growth. More than 30% of people are poor, while tens of thousands of others are going this way. This number is no longer a limited group, as one in three people in the country is poor and their main concern is how to make ends meet", says Xhelal Hoxhic, head of the "September 8" incentive. Reality shows that there's still not a functional social protection system in FYR Macedonia.
Poverty worse than in Africa
Mrs. Hoxhic identifies several cases of extreme poverty. "We have identified several cases of people with acute social problems. Think about it, they live on 21 denars (35 Euro cent) a day per person or less than people in poor African countries live on".
"To improve their situation, it's necessary to change the priorities of the Government. The state must make the solution of the issue of poverty a priority", says Xhelal Hoxhic, head of "September 8" incentive.
Citizens speak about the situation
Citizens say that they live in miserable conditions and anxiety and that they cannot rejoice over the end of the year holidays.
"We live in very difficult conditions and how can we think of celebrating when we can barely survive? It's 5 of us in my family living on a social allowance of 40 Euros a month, but what can we buy with this money, when it's not even enough for basic food", says Ilir Rrahmani from Kumanovo, speaking for balkaneu.com. He says that none of his family members is employed.
Meri Atanasova too, a wife of 49 years of age from Skopje, says for balkaneu.com that sometimes, her family remains without bread and she's forced to beg on the street. Meri accuses the government of lying about the improvement of the social and economic situation.
"This government only lies and manipulates with the poor. Now we understand that it's easier to manipulate and control a poor people and we're witnesses of this destiny. We encounter difficulties on a daily basis, as we have no heating and we have no money. For us there are no holidays and there is no New Year. But we're more sorry about our children who are suffering", says Meri, who is a former worker in a state owned plant until a few years ago when it was shut down.
Incentive for the reduction of poverty
Activists from civil society have recently proposed amendments and measures to strengthen social protection and assistance for people in need.
Mr. Hoxhic says that the organization that he leads, will propose to the Government to pay utility bills and council taxes for all those households which are affected or endangered by poverty.
Political debate on poverty, opposition launches strong criticism
The issue of poverty is part of the political debate between political parties and especially during this period when at the order of the day is the debate on the 2014 draft budget.
The leader of the largest opposition party LSDM, Zoran Zaev, says that the advent holidays find the citizens in extreme poverty and isolation.
"We are in a period of holidays, but we don't feel them. People stay indoors, they don't visit friends and they're not willing to receive friends, due to their financial crisis. Is this a way to live? Of course not. This is why we offer a real and achievable concept for economic and social development. We aim to bring back the middle class and not this situation of poor and rich", says the leader of LSDM, Zoran Zaev.
Amidst monuments and the poor
Mr. Zaev says that the current government of prime minister Nikola Gruevski is spending more money on monuments than its citizens.
"If this government withdraws from the placement of other monuments, it will immediately resolve several social problems. We will not spend money on monuments, but we will return the money to the people", said Zaev.
Former deputy prime minister: We're the third poorest country in Europe
Former deputy prime minister for European Integration, Radmilla Sekerinska says that she's concerned about poverty and the situation of unemployment in the country.
"We live in a state where the citizens are suffering the most. According to world research on poverty, Macedonia is ranked immediately after Iran in terms of percentage. This politics must be punished and we will commit to the life of the people", says Sekerinska.
According to the latest report of EUROSTAT, FYR Macedonia is the third poorest country in Europe immediately after Albania with 30% of the GDP of the European average and Bosnia and Herzegovina with 29% of the GDP of the European average.
Gruevski: Government is reducing poverty and unemployment
Prime Minister Nikola Gruevski says that the government that he leads is making efforts with concrete results to reduce poverty.
In the recent meetings with people in several urban and rural areas of the country, Mr. Gruevski said that his government has managed to reduce unemployment and poverty through active employment and other social programs.
"Figures of unemployment and poverty are still high and we're focused on this issue. As a government, we have managed to reduce unemployment from 38% to 28%. We're still working to increase employment and reduce unemployment through concrete economic and social programs and through foreign investments", says Mr. Gruevski.
The government says that the opposition is exaggerating
Liljana Kuzmanovska MP from the VMRO-DPMNE in power, speaking on Tuesday for balkaneu.com, comments the accusations of the leader of opposition. According to her, the opposition is using methods and populist manipulations to lie to the citizens of the country.
"Their accusations are unfounded. When they were in power, they did nothing for the people and unemployment at that time was at its highest, 38%. We managed to reduce unemployment to 28% and this is a real indicator", says Kuzmanovska.
"The current government,-continues her comment for balkaneu.com,-has done a great deal in the social economic aspect, facing the economic crisis, which knelt many Balkan and EU countries".
Kuzmanovska says that the country has an economic growth of 3.4% and an increase of industrial production.
"The government is also planning to take other measures for the poor, by offering them jobs through social projects", says Kuzmanovska MP, adding that all government measures create new jobs. /ibna/