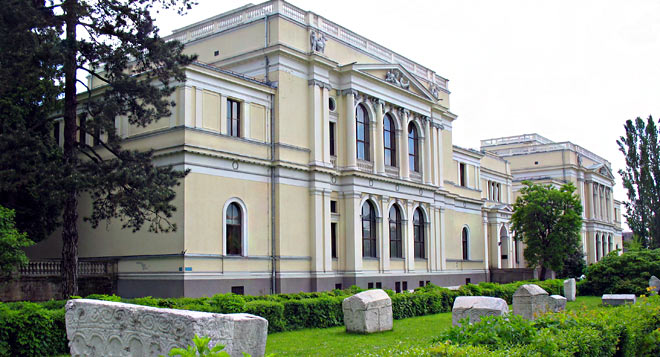 Sarajevo, August 11, 2015/ Independent Balkan News Agency
By Mladen Dragojlovic
The initiative of the group of enthusiasts who decided to try to reopen the BiH National Museum in Sarajevo, begun a week ago and has already had a positive impact.
As it becomes more and more apparent every day, the initiative is so successful that it can stimulate responsible institutions to think about the official reopening of the most important Museum in the state and to allow citizens and tourists to see the treasure which this building keeps for more than century. Recently, people who visit the museum can see the showpiece of maximum value, "Sarajevo Haggadah", the Jewish book from the 14th century. The initiative for reopening, named "I am the Museum", gathered people of various fields of interest who united under same request. The public in Sarajevo and the whole BiH was disappointed when, three years ago, the city administration decided to close the National Museum because of lack of funds. Employees never stopped showing up for work, without salary, in order to preserve the biggest BiH national treasure in a natural, geological and historical sense.
A few days after the initiative officially begun, organisers called citizens to come and become Museum guardians for one day. The call had an incredible effect and citizens came to show how much the Museum means to them. Along with them, international community representatives in BiH and ambassadors accepted the call and begun to keep the initiative alive.
"This shows that people have not forgotten about the Museum and that they are not simply walking past its closed doors", said to media Ines Tanovic Sijercic, one of the initiative organizers.
One of ambassadors who decided to show solidarity with citizens in this case was Ambassador of Germany in BiH, Christian Hellbach. He said to the media that he was astonished with the beauty of the Museum building and that he was surprised that it is closed for the public.
"Exhibits in this Museum are not the cultural goods of BiH and they belong to the whole region and Europe. I know about the political discussions, arguments and court processes in this case and I will take sides. I just think that efforts of the Museum employees to come and keep the exhibits from devastation must be awarded", Hellbach said on the beginning of his shift in the Museum.
Until now, solidarity with Museum employees and reopening initiative was shown by workers of Sarajevo Brewery, bikers, president of Center for the environment from Banja LUka, Natasa Crnkovic, doctors Rusmir Ajanovic and Aida Zujovic, poet and interpreter, Zvonimir Radeljkovic, many journalists, novelists, cultural workers, philosophers and all other who support the initiative.