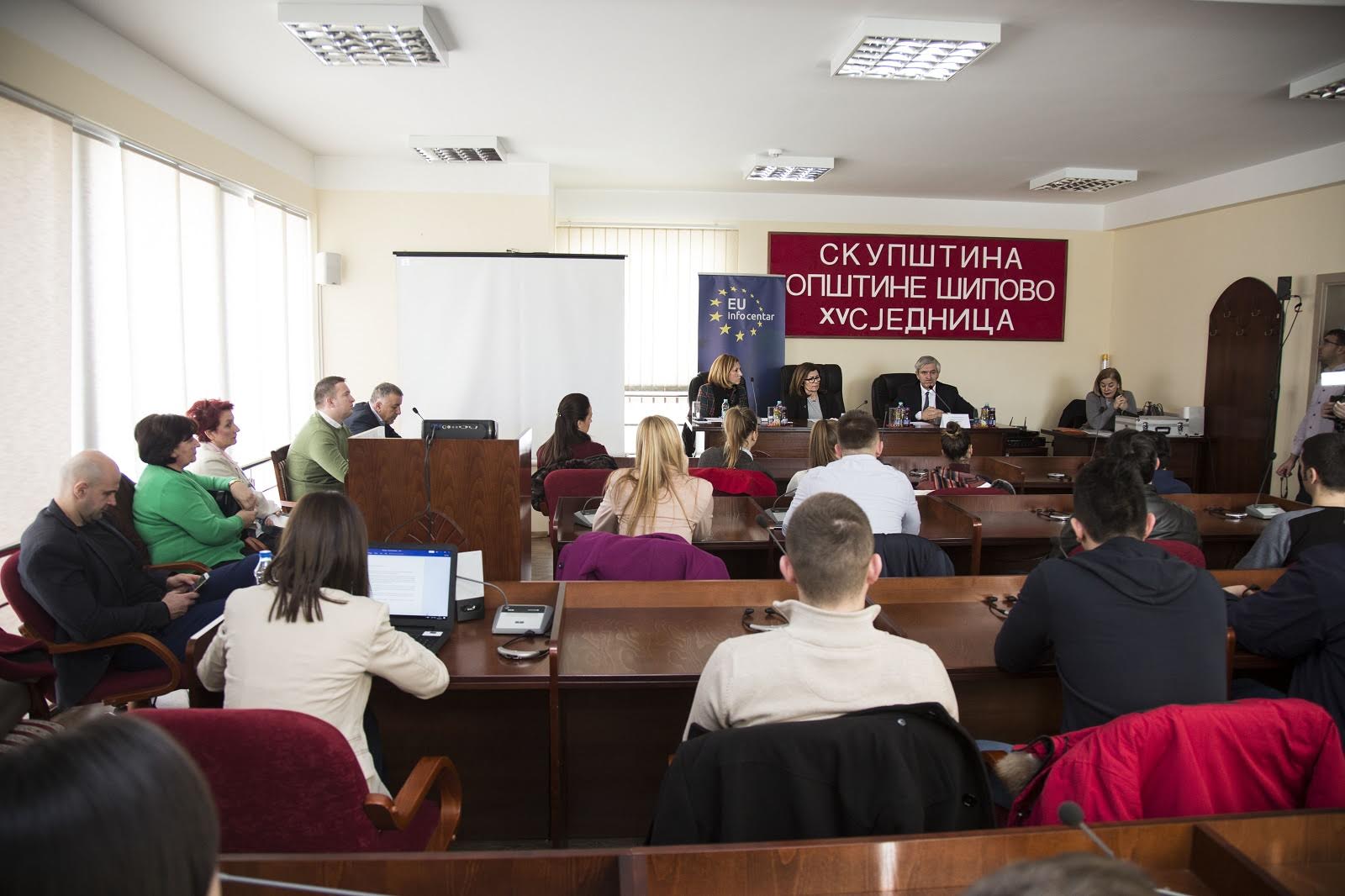 More than 50 citizens, high school and university students, and representatives of the civil society organisations from the city of Šipovo participated at the recent "Ask the Ambassador" event.
It was one of a series of events organised by the EU Info Centre. Citizens had the chance to talk with the Ambassador of the Republic of France to BiH, Guillaume Rousson, and the Ambassador of the Republic of Slovenia to BiH, Zorica Bukinac. They talked about the experiences of their countries, the changes that the EU membership brought about and the best practices which could be beneficial during BiH's EU accession process.
Citizens also had an opportunity to learn how EU membership has improved the lives of young people and students in France and Slovenia and how it affected education, employment and overall engagement of youth there.
Addressing the audience, Ambassador Rousson underlined the importance of the link between the education system and the labour market, as a tie that could ensure (future) employment for young people.
"Educational institutions in France talk to employers and open up study programmes for professions that are sought in the labour market. It is estimated that young people need to be more practically prepared for work so there are plenty of practice and internship programmes in France," said Rousson.
Ambassador of Slovenia, Zorica Bukinac spoke about the best practices BiH could use in the process of joining the EU, but also about rights and obligations coming with the EU membership.
"For example, in the field of education, European institutions do not impose or prescribe what the education systems of member states should look like, but many EU programmes are geared towards sharing experiences and ideas making us more competitive," Bukinac noted.
She added that, formal, institutional education is important, however, it is not sufficient in itself, in the recruitment process, because employers in the EU highly value practical experience and skills of workers.
After the presentations given by the ambassadors of France and Slovenia, the gathered citizens had an opportunity to directly talk to them on the topics of their interest.
EU Info Centre continues with open talks with EU Member States ambassadors in the coming months. Derventa will host ambassadors of UK and Czech Republic on April 20, while the Swedish ambassador will visit Zvornik on May 31…/IBNA