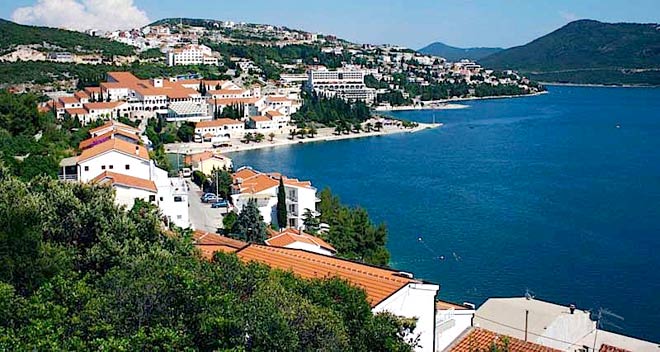 By Mladen Dragojlovic – Banja Luka
The small city of Neum and the 25 kilometers of coast are the only Bosnia and Herzegovina exit on the Adriatic sea and its citizens are ready to protect their environment from turkish battleships, which are programmed to sail to the waters near Neum on July 15. Their demand was so strong that BiH Council of Ministers (BiH government) changed their decision on the ships' presence in this small part of the Bosnian coast and the visit will be canceled.
The visit of the two ships, TCG Cezayirli Gazi Hasanpasa and TCG Sokullu Mehmet Pasa, was planed several weeks ago and they were planned to hold a military exercise. The citizens of Neum stand in defence of their coast claiming that battleships are not welcomed near coast in time of full tourist season. As a result, the arrival of the two ships has suddenly turned into a large political issue that even the BiH Presidency will discuss.
At first, permission for the ships' arrival was issued by BiH Minister of Foreign Affairs, Zlatko Lagumdzija. The chairman of Council of Ministers, Vjekoslav Bevanda, said to media that he didn't know anything about this matter.
"I was informed of this visit from Neum municipality officials, who asked me to do everything i could to prevent it. Lagumdzija, after I asked him about the ships, said that he had issued a "routine agreement" for a visit and exercise and that he informed other relevant ministries as well as the BiH Presidency. Myself, as Council of Ministers Chairman, wasn't informed by Minister Lagumdzija and I don't know what 'routine agreement' means", Bevanda told the media.
He also added that local authorities in Neum must give permission for the visit, but Lagumdzija didn't asked them before he signed a permission. The political aspect of this visit becomes even bigger when one takes into account the fact that the majority of citizens in Neum are Croats and the ships are turkish. On several places in Neum, there is graffiti on the walls that says: "balije" (rude word for muslims in Bosnia) should go home.
But, Neum mayor, Zivko Matusko, denies that Croat nationalism is the reason for resistance in this case. He stressed that Neum maritime area is ecologically sensitive and that big ships are causing a big damage.
"Four years ago, the municipality assembly decided to ban the arrival of big ships in the Neum maritime area. Neum is not a harbour", Matusko said to media.
A potentially big problem for BiH in this case can be the fact that Turkey is among the biggest investors in the country. Turkey has sent a lot of aid in various areas hit by recent floods, humanitarian organizations and the Turkish battalion in EUFOR forces for years help people in various situations. Now, a small city has put all that in question deeming the turkish ships as being some kind of enemies.