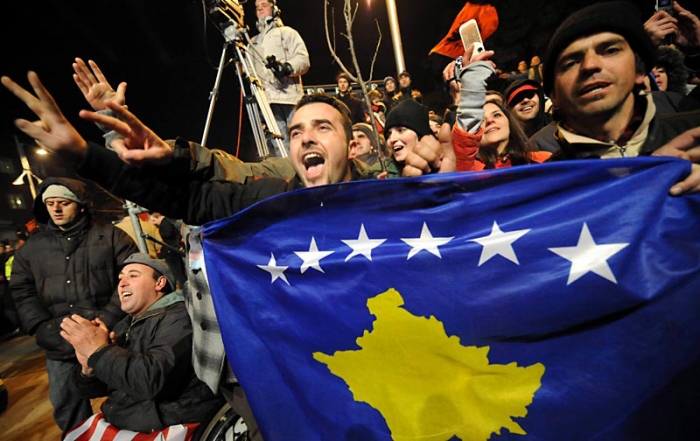 IBNA Special Report/A year in Kosovo. Everything on the important developments of the 5 year state. What are the problems that the citizens face? Unemployement: Disregard in reality and the attempts to change the statistics on it. Protests on the expensive electrical bills. The famous agreement of April 19 and the following events. Surprises in the local government elections where Serbs won the same number of municipalities and communes as the majority in power and opposition. The wave of arrests and the enquiries on the former fighters of the Kosovo Liberation Army. How is EULEX trying to make part of the criminal investigations, names who lead the country today? The coragous step of the Serb prime minister Dacic with his visit at the exhibition of the survivors of the Serb massacre in Kosovo, an exhibition which was opened in Belgrade.
Below you will find the full summary report of the journalist of Independent Balkan News Agency in Kosovo, Tinka Kurti
No significant progress for the citizens
2013 has not marked any significant progress in the living standards of middle class citizens in Kosovo. Power supply and its price continue to be a problem for them. Water supply (regardless of the towns), still remains a big concern. Household incomes are low and their installments on loans pretty high. In this situation that they consider to be as unacceptable, many of them have risen into protests throughout the year in many towns of Kosovo.
Meanwhile, the poor citizen has the same living that he has had throughout the years, making his ends meet, because he doesn't have a constant shelter to live in and he has many difficultuies in securing the daily bread and basic food.
The government amidst privatizations in Kosovo and negotiations in Brussels with Serbia
On its part, the government has started to deal with privatizations, negotiations with Serbia and the agreement between the two sides. The government has also been dealing with changes in the cabinet, departures, discharges and appointment of ministers. This government has also faced numerous comments on scandals which have been denounced on the media.
More: IBNA Special Report/ Agreement between Kosovo and Serbia amid negotiations and protests
Local government elections with an international importance
The last part of the political events consisted on the negotiations with Serbia in Brussels and the holding of local government elections.
Although they were local elections, these elections engulfed international politics, as they were constantly part of the talks in Brussels. 20 meetings in total took place between the prime minister of Kosovo, Hashim Thaci, the Serb prime minister Ivica Dacic and participation of baroness Catherine Ashton. The elections were part of the talks as a result of the participation of the serbs in them and as a result of the creation of the Association of Communes with Serb majority. Although the elections were held in the territory of Kosovo, the date for them was decided by the Serb prime minister during the negotiations with Thaci. November 3, was confirmed by baroness Ashton as the date requested by Dacic.
Meanwhile, the elections brought many changes, starting with the political subjects racing in them. Participating in these elections were also Serb candidates running under the logo of "Serbia List". Such name was criticized by the political spectrum of Kosovo. This list sponsored by Belgrade, changed its name to "Serb civil initiative".
After the holding of local government elections which were accompanied by incidents in the northern part, the government declared that the north is now integrated, as a result of the fact that Serb citizens went to the polls. Meanwhile, according to the government, their integration and the shutting down of parallel structures is a process.
More: Elections in Kosovo: Opposition strengthens its position, the government stable, radicals grow significantly. The north fails
"Electoral revolution"
The result of the run-off was considered by many as an 'electoral revolution', given that it was accompanied by many unexpected things.
This way, for the next four years, PDK will govern in 10 municipalities, LDK in 9, Serb subjects in 9, AKR in 2, AAK in 2, while Self Determination will govern in one municipality, in the capital of Kosovo.
PDK has won in several municipalities, which were previously controlled by it such as in Prizren, Skenderaj, Rahovec, Drenas, Klina, Kamenica, Vushtrri, Kacanik, Dragash and Shtime. Meanwhile, this party lost power in very big and important towns such as Southern Mitrovica, Lipjan, Malishevo, Ferizaj and Gjilan. The most important changes happened in Pristina, Pec, Gjakovica, Ferizaj, where each battle was interesting. In Pristina, for the first time, power would go to another subject, besides LDK which governed for 14 years in a row. This made the victory a historical one. Candidate of Self Determination, Shpend Ahmeti gained 2500 votes more than the current mayor, Isa Mustafa, who is chairman of LDK. Alliance for the Future of Kosovo, led by Ramush Haradinaj, lost Pec, Gjakovica, Theranda and Rahovec.
Gazmend Muahxheri, LDK candidate won in Pec against Ali Berisha, who was mayor of Pec during two terms in office, depriving him a third term. Meanwhile, AAK has also lost Gjakovica, where Mimoza Kusari-Lila will be the first woman mayor who defeated her opponent, Pal Lekaj.
April 19 agreement was struck, but there are still obstacles and Serb mayors don't recognize Kosovo
Everything had started before this date. Three years ago, when the prime minister of Kosovo was accused by opposition MPs that he had met with Serb state officials, he used to deny it, considered it an insult and promised that he would never do such thing. But later, he accepted to meet given that visits to Brussels became a government routine. After a few meetings, Thaci signed on April 19 the agreement of Brussels. Amongst others, this agreement consisted on the creation of the association of municipalities and communes of Serb majority, integration of paralel structures within police of Kosovo, Commander of Regional Police for North Mitrovica to be a Serb and for this part of the country to also have a branch of the Appeal Court.
But the agreement should have been voted by parliament of Kosovo. The day when the agreement was decided to be voted, is remembered as the longest day in parliament, as the voting managed to take place at 2 am, as a result of the numerous and long speeches of MPs and the protest inside and outside parliament organized by Self Determination. Outside the premises were activisits of this movement, who were protesting because they considered the agreement as damaging and inside were Self Determination MPs who through symbolical acts called upon other collegues MPs not to vote the agreement. The agreement was voted with majority of votes and most of the points were implemented through the events that followed throughout the year. In spite of this, in the north there are still barricades, there are Serb mayors who still don't recognize Kosovo, border line with Greece still has no line of demarcation and there's still the issue of the "footnote" to be discussed in the so called technical talks.
Former KLA fighters governing the country and accused of war crimes by EULEX
Municipality of Skenderaj will hold fresh elections, because EULEX arrested its mayor on the count of war crimes. Sami Lushtaku was arrested on May 1 of this year along with the ambassador of Kosovo to Albania, Sylejman Selimi. Lushtaku ran again and won the elections from jail, but EULEX refused the request to release him for 10 minutes in order for him to take the oath as elected mayor of Skenderaj.
Special Prosecution has indicted Sylejman Selimi, ambassador of Kosovo to Albania, Fadil Demaku, member of the parliament of Kosovo from PDK, Sami Lushtaku, mayor of Skenderaj, Sabit Geci, Sahit Jashari, Ismet Haxha and several others.
Their arrest was accompanied by a protest which was aimed to defend the values of the war fought by Kosovo Liberation Arymy.
Neither Lushtaku, nor Selimi have been suspended and they continue to occupy the posts that they held prior to their arrest.
More: Elected mayor facing charges of war crimes, early elections in a municipality in Kosovo
Unemployment, disregard in reality and attempts to change it in statistics
For many years, Kosovo has been criticized for the high level of unemployment rate with over 40% of people able to work, unemployed. Agency of Statistics of Kosovo published in October of this year a report on 2012, where it says that the level of unemployment results to be 30.9%. This number follows the prior publication which considered the level of unemployment to be at a rate of 35.1% and official date from the Registry of Population considered unemployment to be at a rate of 45.1%. Following this publication, "Riinvest" institute had reacted by saying that the figures that were issued were in line with the logic and economic developments in the country. According to this institute, the figures published by the Agency of Statistics of Kosovo were not accurate and caused confusion amongst population. The manipulation had taken place with the figures. "In order to come up with an unemployment rate of 30.1%, according to ASK's calculations, Kosovo only has 135 thousand unemployed people, 300 thousand employed people and 750 thousand elderly people who are not part of the active labor force. In other words, out of a labor force of 1.189.000 people, ASK exempts 63% of this force or 2/3", declared this institute.
Camps and detention centers in Hungary and France filled with refugees from Kosovo
The difficult economic and social situation could no longer be masked when the citizens of Kosovo became once again refugees. Thousands of citizens of Kosovo had followed illegal routes this year to emigrate in the EU countries in search of a better life. Most of them could not find this life. They ended up in camps now known as "under the bridges of France", while in the majority of cases, they were caught by local police. All of them were repatriated as these countries didn't grant them asylum.
Protests against over inflated power supply bills
The new company which privatized KEK, which acquired the entire network of distribution for 26 million Euros, did not offer more power supply to consumers. On the contrary, discontent immediately emerged. Consumers in Pristina immediately noticed that they were receiveing higher power supply bills and held protests. Protests spread in several towns. Protestors demands aimed to stop state theft and corruption. Given that they didn't grow in numbers, these protests were stopped.
Release of Fatmir Limaj and his objections against PDK
It was November 2012 when Fatmir Limaj was arrested on suspicion of war crimes. He was released on March 8 of this year and when he was arrested, he was vice chairman of PDK. When he got out, the elections within PDK had been held and he was no longer part of the leading structures. Limaj didn't meet his fellow party colleagues, with the exception of Jakup Kransiqi. He openly criticized PDK and during the local government elections he backed a new subject which came out of the structures of PDK in the majority of towns. Melishevo, Limaj's birthplace, where PDK had always won, was won by Civil Initiative for Melishevo, which was now backed by Limaj.
Jakup Krasniqi under investigation too
For many, objections against PDK are leading to judicial trials. This was more spread in Limaj's case and recently reemerged with enquiries for war crimes on the speaker of parliament, Jakup Krasniqi. He has declared that he's innocent and that as a fighter, he hasn't violated international laws of war and the teachings on how to defend the fatherland.
Dacic meets with the survivors of the massacre of Bogujevci
When Serbia was granted the EU candidate status, prime minister of Serbia, Ivica Dacic participated in the exhibition held in Belgrade, organized by survivors of the massacre of Bogujevci in Podujeva. The exhibition contained images of the crimes of the massacre perpetrated against this family. The state, led by Dacic, has never apologized for the crimes committed in Kosovo. Dacic had been spokesman of Miloshevic's government at that time. Many analysts related Serbia's granting of the EU candidate status with the fact that two days earlier, the remains of around 40 bodies, who are suspected to have been killed during the last war in Kosovo, were found in Rashka, Serbia. /ibna/