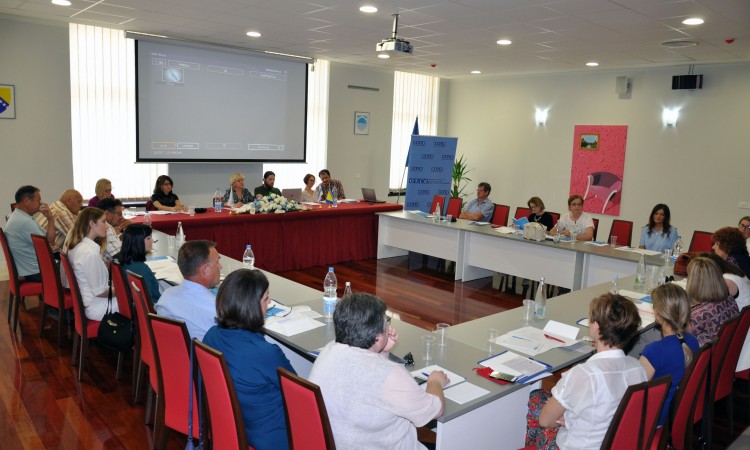 Sarajevo, June 22, 2016/Independent Balkan News Agency
By Mladen Dragojlovic
OSCE Mission in BiH organized on Wednesday, in Mostar, a meeting of the Initiative "Forum Against Discrimination", which gathered representatives of returnee associations, women, social workers, legal aid, youth and other civil society organizations and public institutions at the local level.
OSCE Office Chief adviser for fight against discrimination Marry Stojan, said that the Mission  supported the establishment of a forum of inter-cantonal initiatives against discrimination in Mostar 2013 and continues to support the quarterly meetings and initiatives. She added that similar initiatives which set discrimination in the focus of activities were established in other areas of BiH.
"The Initiative Forum against discrimination aim is to became a kind of platform for the exchange of information and experience, capacity building and networking of civil society organizations, local authorities, legal assistance and other professionals who are active in the field of human rights and the fight against discrimination", Stojanov emphasised.
She also said that meeting includes the exchange of information on current issues of discrimination and on relevant activities related to these problems, as in the Herzegovina-Neretva and in the area of West Region.
"On the basis of this information, the participants will jointly prepare a list of problems identified for future advocacy, as well as to contribute to the preparation of two strategies that will be developed at the national level by the Ministry for Human Rights and Refugees in BiH. It is a Strategy for the fight against discrimination and on the Strategy for the protection and promotion of human rights", Stojanov said.
Danijela Kegelj, from the Association "Smile" Mostar, said that they identified many problems with same name – barrier. These barriers can be physical, those in the heads, in the system, in education, etc. As a second identified issue, she emphasized the health care problem. She explained that a lot of problems are in the area of health care, where the discrimination is present. Also, as she said, there are problems in the education system, the availability of assistive devices, medicines and other lists.
President of the Association of returnees in Ljubuski and Chairperson of Forum, Memnuna Mahić, pointed out that there is no sector in society without some kind of discrimination and that it is shameful that twenty years after the war, people still have to deal with return issues, but that not much have been done in that regard.