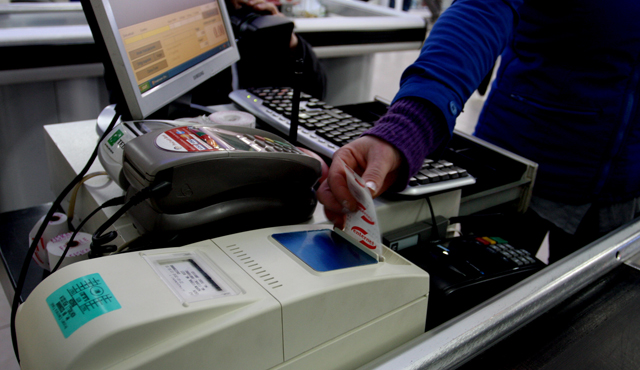 IBNA Special Report
Pristina, March 19, 2015/Independent Balkan News Agency
By Elton Tota
Citizens of Kosovo demand changes in taxation policies, namely the reduction of VAT for basket products, drugs and public services.
Njomza V, 25, from Pristina told IBNA that it's not fair for the citizens to pay 16% VAT for both luxury products and basic products, such as bread, milk, sugar, etc.
"I believe that VAT must be categorized like it happens in the EU countries. It's not fair to apply the same percentage of VAT on petrol and food. We, the citizens of Kosovo are being damaged by this", she said.
Meanwhile, experts of economic developments say that besides VAT, authorities must also undertake a fiscal reform with the scope of improving the activities of private businesses in Kosovo.
Economy professor, Abdulla Prebreza, told IBNA that in order to create new fiscal sources, production must be stimulated with favorable fiscal policies namely in the import of technology.
"It's necessary to lift the 16% VAT and customs charges. VAT on basic products must be 1 or 2% while for luxury products, they must be increased to 24% or 30% such as it's in the case with European countries. The application of these measures will help in stimulating local businesses, reduction of unemployment and stability in budget revenues", he says.
In front of these demands, the Ministry of Finance says that it has started the amendment of the law on VAT, by reducing it from 16% to 8% and by increasing it to 18% for several other products.
The list of products which will have an 8% VAT contains public services such as energy, water, wastes, heating and street cleaning and basket products such as bread, oil, salt, sugar, milk, rice, eggs, pharmaceutical products and medical equipment.
"Consumer pays 16% VAT on everything purchased today. We're expecting this to be reflected directly on the water bill, heating, electricity immediately after the law comes into effect. Their bills will go down by 8% while I'm expecting for food products to see the same decrease. If businesses pay to the state an 8% VAT, then prices will fall", says Avdullah Hoti, minister of Finance.
The government of Kosovo plans on increasing VAT on all other products from 16% to 18%. The list of products with a changed rate also includes electronic media and newspapers. Currently, media do not pay VAT on paper, other equipment and the invoices that they issue. With the new proposal, VAT goes up to 8%.
The VAT law is soon expected to reach parliament. Depending on the dynamic of work, there are two deadlines as to when the law can come into effect: July this year of January of 2016. /ibna/