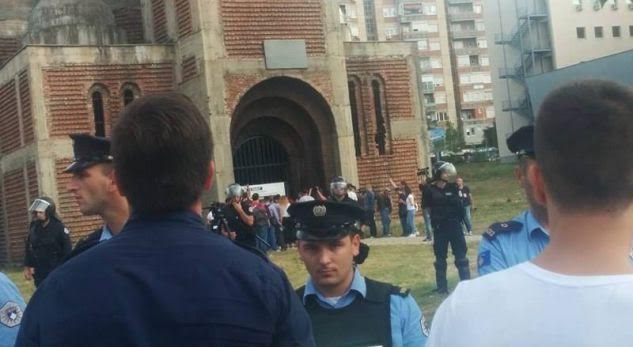 Pristina, 19 September 2016/Independent Balkan News Agency
By Elton Tota
The church built within the campus of "Hasan Prishtina" university in Pristina during the regime of Slobodan Milosevic, has sparked many debates in Pristina.
A large number of students continue their protests for the demolition of this building without permit and the return of the 4 thousand hectares property to Hasan Prishtina university.
Largest opposition party, Self Determination has joined the cause of the students for the demolition of this building.
Self Determination MP, Aida Derguti says that the building which had been built within the university campus has no permit and as such, it is being handled by the Commune of Pristina.
"It must be handled in terms of the way it is, a building without a permit. But this building also revives the collective trauma of Albanians every time they see it", she says.
On the other hand, president of Kosovo, Hashim Thaci has reacted against the student protest in front of the Serb Orthodox Church.
"The protest and the violence manifested in front of the Serb Orthodox Church in Pristina is unacceptable.
Regardless of the circumstances in which it has been built, we will not touch these buildings, especially when they belong to the religious communities", he said.
President Thaci said that each contest must be addressed in a legal way, through dialogue between the sides and not through unilateral actions that spark hate.
Self Determination leader, Visar Ymeri has criticized the stance of the President of Kosovo, Hashim Thaci.
"The so called President, Hashim Thaci, voted in circumstances of violence, is now defending Milosevic's narration.
This building which was inaugurated in January 1999 is a symbol of the occupying and fascist regime of Serbia", he said.
Meanwhile, University of Pristina has expressed its concern today about the latest developments in relation to the church in front of this institution.
The management of the university said that it expects institutions to address this problem through political and legal means, in order for the university to have its property back and to continue the path of academic advancement. /balkaneu.com/