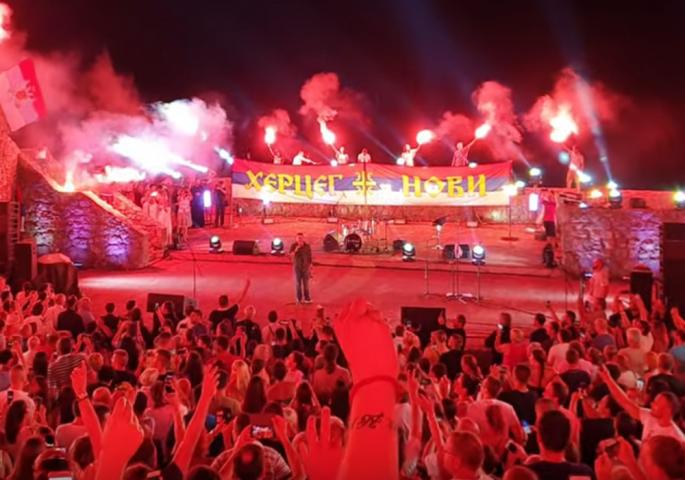 The Montenegrin Movement (CP) has filed a criminal complaint with the Supreme State Prosecutor's Office against the Montenegrin-Littoral Metropolitanate (MCP) of Serb Orthodox Church and singer Vlado Georgiev for allegedly criminal offenses against the constitutional order and security of Montenegro.
It is alleged that at a concert in Herceg Novi, the speeches of the speakers, supported by organized clero-fascist rampage of the mass of hooligans, offended Montenegrins and Montenegro and called for the occupation of the country.
"The songs "Far Away" and "Montenegro and Serbia are one family" were performed and, by Georgiev's change of certain words, suggested that parts of Montenegro were Serbia and Montenegro was subordinated to Serbia," said CP in the press release.
Subsequent attempts to relativize responsibility are estimated to be merely an attempt to conceal a clear intent on provocation and an intention to provoke nationalist euphoria.
"Especially since there were more tourists from Serbia in the audience, bearing in mind that Herceg Novi is presented as a" Serbian city", the CP said.
The CP expects the Prosecution Office to proceed with this report, "although experience has shown that the Prosecution deliberately discourages criminal proceedings against MCPs."
"This has led the MCP to act even more by disregarding the laws of Montenegro, continuing to offend members of the Montenegrin and other nations, Montenegro Orthodox Church believers and atheist, revamp the Montenegrin heritage, build without a permit, invite its believers to physical violence and opposition to state authorities," the statement said.
The CP called on the state authorities, in cooperation with the international community, to initiate judicial reform, as it is unacceptable for people in the judiciary to work with people who share the views of the MCP./ibna