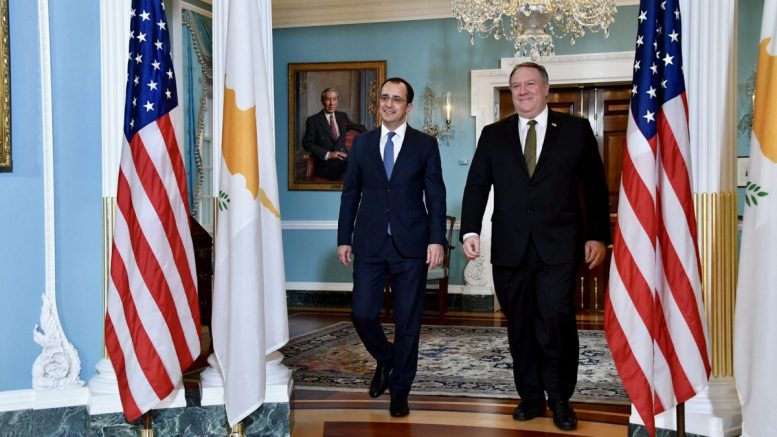 On the occasion of the one-year anniversary since the signing of the "Statement of Intent" between the United States and Cyprus, the Minister of Foreign Affairs of Cyprus Nikos Christodoulides was invited by his US counterpart Mike Pompeo to Washington on Monday 18 November.
Nikos Christodoulides, in November 2018 in Washington DC, alongside the US Undersecretary of State at the time Wess Mitchell co-signed the Statement of Intent between Cyprus and the US. For the first time ever, Nicosia and Washington proceeded on framing out a clear plan of cooperation in the field of security, signaling the enhancement of cooperation between the two countries.
The Christodoulides-Pompeo meeting will be held at the Ministry of Foreign Affairs at 13:00 (local time), and the talks will include the Cypriot-US bilateral relations, developments regarding the Cyprus issue as well as in the Eastern Mediterranean, with special focus on energy affairs.
Nikos Christodoulides will meet with the Assistant Secretary of State Philip Reeker, Deputy Assistant Secretary of State Matthew Palmer, Assistant Secretary of State for Energy Resources Francis Fannon and possibly with the National Security Advisor to the US President, Robert C. O'Brien. The Cypriot Minister of Foreign Affairs is expected to be briefed on the Turkish President Recep Tayyip Erdogan's visit to the US and his talks with Donald Trump.
During his stay in Washington, Nikos Christodoulides will speak at the Conference organized by the Delphi Economic Forum and Kathimerini Newspaper, in co-operation with the Hellenic American Leadership Council (HALC). The theme of the Conference will be "South East Europe and the Eastern Mediterranean: New Strategies, New Prospects". The Cypriot Minister of Foreign Affairs will also participate in a roundtable on energy security in Southeast Europe and the Mediterranean alongside the Greek Minister of Development Adonis Georgiades, the Deputy Prime Minister of North Macedonia Kocho Angjushev and the US Deputy Minister Francis Fannon. /ibna