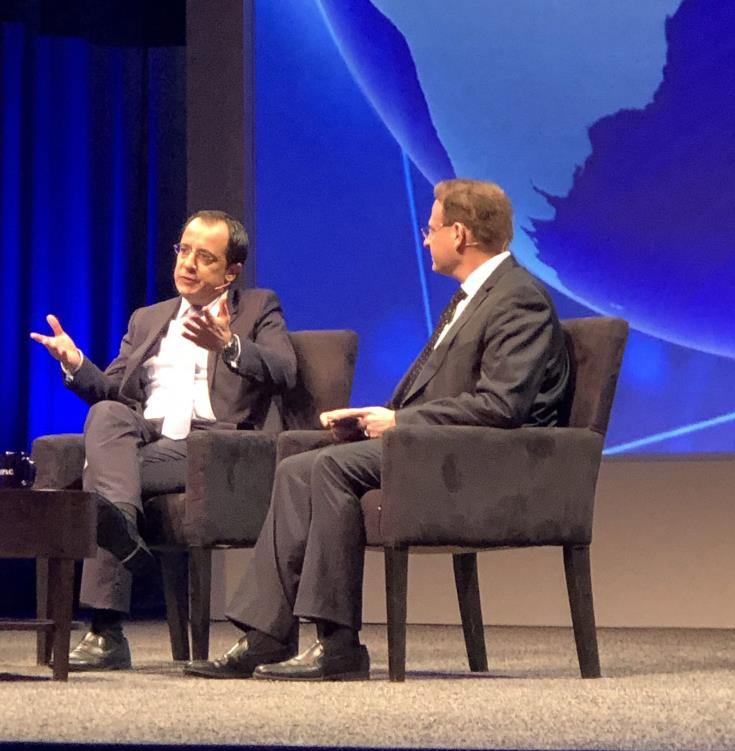 What the Cypriot FM said on the tripartite in Israel, both from America where he is, and in an interview with the Cypriot "Kathimerini"
By Michalis Michael
Foreign Minister Nikos Christodoulides presented yesterday in Washington the energy developments in the region, highlighting the creation of the "Eastern Mediterranean corridor" and regional security and cooperation – according to what journalist Apostolis Zoupaniotis is broadcasting from Washington – during a debate that took place at the AIPAC conference, the largest organization of the American-Jewish lobby. Christodoulides said the vision of Cyprus for the region is to establish a regional security and cooperation organization, in which all the countries sharing the same ideas will be involved, forming the framework in which all issues of cooperation in the region will be discussed.
In the same panel with Christodoulides (covering the issues of the western hemisphere) was the Secretary of the Organization of American States (OAS), Luis Almagro Lemes, with coordinator the AIPAC International Affairs Director, Stephen Schneider. Responding to a question, the Minister of Foreign Affairs set the framework of relations between Cyprus and Israel through three prisms.
As far as the bilateral level is concerned, he highlighted the close cooperation that exists, and extends beyond the energy sector to security issues, technology and health. He also noted that the contacts between the Cypriot and the Israeli people have been strengthened.
The other point is the tripartite cooperation of Cyprus – Greece – Israel, which started again from the energy sector, but which today has been extended to many other important areas. As Mr Christodoulides has pointed out, to date there have been six summits that have produced concrete results.
Finally, he noted, there is also the multilateral perspective, as expressed by the recent informal participation of the United States, with Foreign Minister Mike Pompeo, at the tripartite meeting in Jerusalem.
Approach as a stability country, not a trouble maker one
The Foreign Minister of Cyprus gave an interview to the Cypriot "Kathimerini" before his departure for the US, after the tripartite in Israel. There he stressed that the approach of third countries towards Cyprus is an approach towards a country of stability in the region and not to a trouble maker country.
Regarding the results of the Tripartite, he commented that Cyprus's vision and expectation for the Eastern Mediterranean is that all these multi-level partnerships should be transformed into a regional security and cooperation organization of the states of the region.
"That is to say, let us proceed gradually to an institutional interconnection that will strengthen the prospects and potential of the states in the region", he said.
For the Cyprus issue, he stressed that Nicosia does not want negotiations for the sake of the negotiations, while regarding the insistence of the Greek Cypriot side on the July 4 minutes, he said that this was clarified on July 4, after the demand of both sides.
"Quite simply because if we start a new effort without that, it would essentially mean that the important acquis of the last negotiating process is lost, which in terms of results and substance was the most important in the history of the negotiations since they started", he pointed out./ibna