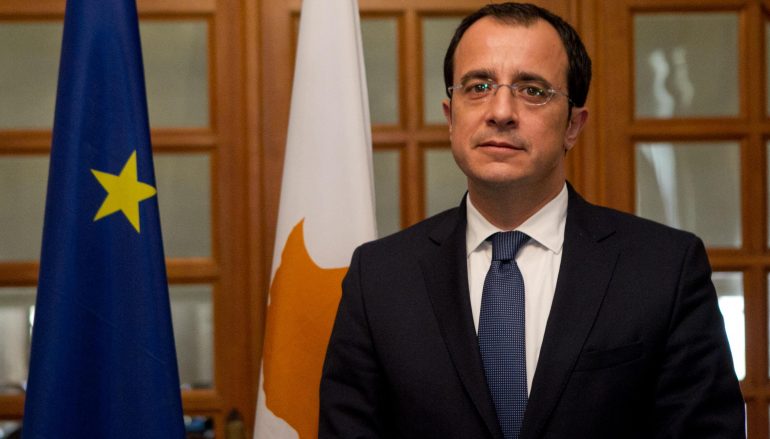 Minister Nikos Christodoulides, giving in an in-depth interview on Politis Radio and the news agency's website, spoke about all the open issues the Cypriot Ministry of Foreign Affairs has been dealing with.
According to Nikos Christodoulides, "the list of natural and legal persons has been prepared and delivered by courier to the European Union", while noting that the Ministry remains in touch with its European partners on the matter.
He went on to point out that the sanctions for these persons provide for freezing of property and a ban on entry into EU countries.
On the issue of the delimitation of the maritime zones between Turkey and Libya, the Cypriot Minister underlined that: "We invited the Libyan envoy to Cyprus in order to get some explanations on this matter".
It appears, he said, that Turkey is pursuing its revisionist policy in the Eastern Mediterranean and that policy is now being directed against other states, such as Greece and Egypt.
"Most of these states now understand what we have been telling them all this time", he said.
Moving on to the developments within the Cypriot EEZ, Nikos Christodoulides stressed that "we reached out to Turkey so we can discuss the EEZ demarcation between Cyprus and Turkey. We even recently called on Turkey to address an international body on this matter, but we have yet to receive any response".
Responding to the recognition of Israeli settlements on the West Bank by the United States, the Minister of Foreign Affairs expressed the view that "we strongly disagree with this political statement by the United States; we have communicated our dissatisfaction to both the Americans and the Israelis".
To a question regarding whether he is concerned about the US pulling out a similar tactic with regard to Cyprus, he responded that Israel and Cyprus are not the same, as these constitute two different issues.
As for Syria, Nikos Christodoulides noted: "We are in contact with the Syrian government. Recently, a senior diplomat from the Ministry of Foreign Affairs traveled to Syria. We are also discussing with our European partners the possibility of restoring our diplomatic presence in Syria".
Regarding the Cyprus issue, Nikos Christodoulides said: "We believe that the period until the elections in the occupied territories should not be left unexploited. We ask for something to happen. The infrastructure for the next step is there. The terms of reference are listed in the Guterres statement. We are trying to send messages to Turkey via Russia, the EU and other agents, but we are now focusing on the UN Security Council, where the Cyprus issue will be soon discussed again. We hope that there will be some public statement that will put pressure on Turkey in order for developments to be recorded in the Cyprus issue shortly".
When asked why the UN Secretary-General refrains from holding the responsible agents accountable, he replied that if Mr. Guterres gets to the point of making accusations, that would mean the end of his involvement in trying to resume the talks. /ibna
Source: Politis