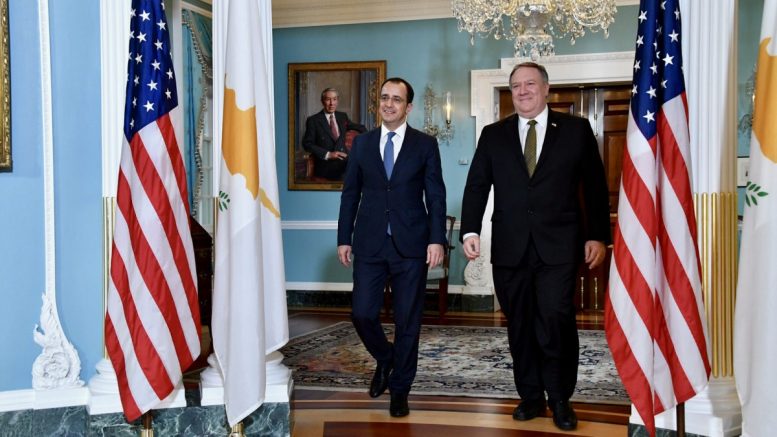 The Minister of Foreign Affairs of the Republic of Cyprus, Nikos Christodoulides, expressed the satisfaction of the Republic of Cyprus following his meetings with the US Secretary of State Mike Pompeo and Assistant Secretary of State Wess Mitchell on Tuesday 6 November 2018 in Washington.
Nikos Christodoulides signed a "Statement of Intent" with Wess Mitchell on strategic development of bilateral relations. Three issues dominated the agenda of the meeting, according to Nikos Christodoulides.
Strengthening bilateral relations at all levels was the first issue discussed. The common desire for cooperation is particularly relevant in the field of security and set the tone for the next moves to be made by the two countries.
The second issue, according to Nikos Christodoulides, concerned the important role that the Republic of Cyprus plays in developments in the region through its tripartite partnerships with neighboring states. According to IBNA exclusive information, the upcoming involvement of the US in the tripartite formed by Greece, Cyprus and Israel was discussed.
Finally, the Cyprus issue was the third to be discussed between Pompeo and Christodoulides. The US expressed support for both the UN Secretary-General and the efforts of Jane Holl Lute. There was also an exchange of views on the chapter on security and guarantees, which is an important issue in the effort to resolve the Cyprus issue.
As Nikos Christodoulides noted, strengthening the strategic cooperation of the two countries is not turning against any third country but is part of the positive agenda to address common challenges and common problems.
Regarding the Turkish threats, Nikos Christodoulides noted that the Republic of Cyprus will not follow the same tactics, as Cyprus acts in accordance with the 1982 Law of the Sea Convention. "We are not going to engage in a public dialogue with Turkey," the Cypriot FM said about the threats made to ExxonMobil and the other companies operating in the Republic of Cyprus' EEZ, within the sovereign rights of Cyprus.
"Our energy planning is progressing normally, and what we are doing is taking every action – especially preventively – so that there are no problems", Christodoulides concluded./IBNA