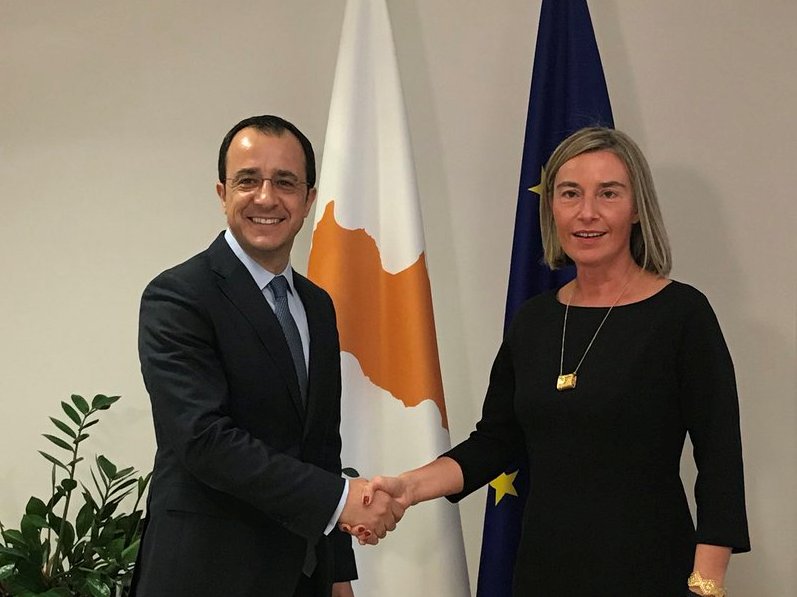 In the margins of the work of the EU Foreign Affairs Council in Brussels, Nicos Christodoulides met with the EU's High Representative for Foreign Affairs and Security Policy, Federica Mogherini.
The Cypriot Foreign Minister, on the occasion of FedericA Mogherini's visit to Turkey next Thursday, informed her of the latest developments in the Cyprus issue and in particular of the efforts made by the Secretary-General of the United Nations through Jane Holl Lute to define "terms of reference", which will lead to the resumption of meaningful talks on the solution of the Cyprus problem as soon as possible.
In this context, reference was made to the key role the EU can play, both towards re-launching substantive talks and their successful outcome.
Also, Nicos Christodoulides referred to the implementation of the Cyprus Republic's energy plans within its EEZ, stressing the importance of the energy developments in the Eastern Mediterranean for regional cooperation, as well as the energy security of Europe as a whole. At the same time, the Foreign Minister referred to Turkey's actions in the region against the exercise of the sovereign rights of the Republic of Cyprus and the real aspirations Ankara wants to serve through these actions.
The Foreign Minister and the High Representative also exchanged views on Euro-Turkish relations, with Christodoulides reiterating that Cyprus supports Turkey's accession course, provided Ankara applies, like all accession states, all the obligations it has undertaken towards the EU, including in relation to Cyprus, as well as the need for a constructive attitude towards the efforts to resolve the Cyprus problem, which will not be outside the framework of the relevant United Nations resolutions Nations and the EU's principles and values.
Finally, Mr. Christodoulides and Mrs Mogherini reviewed and exchanged views on the latest developments in the Middle East and the role of the Republic of Cyprus as the neighbouring Member State in the region./IBNA