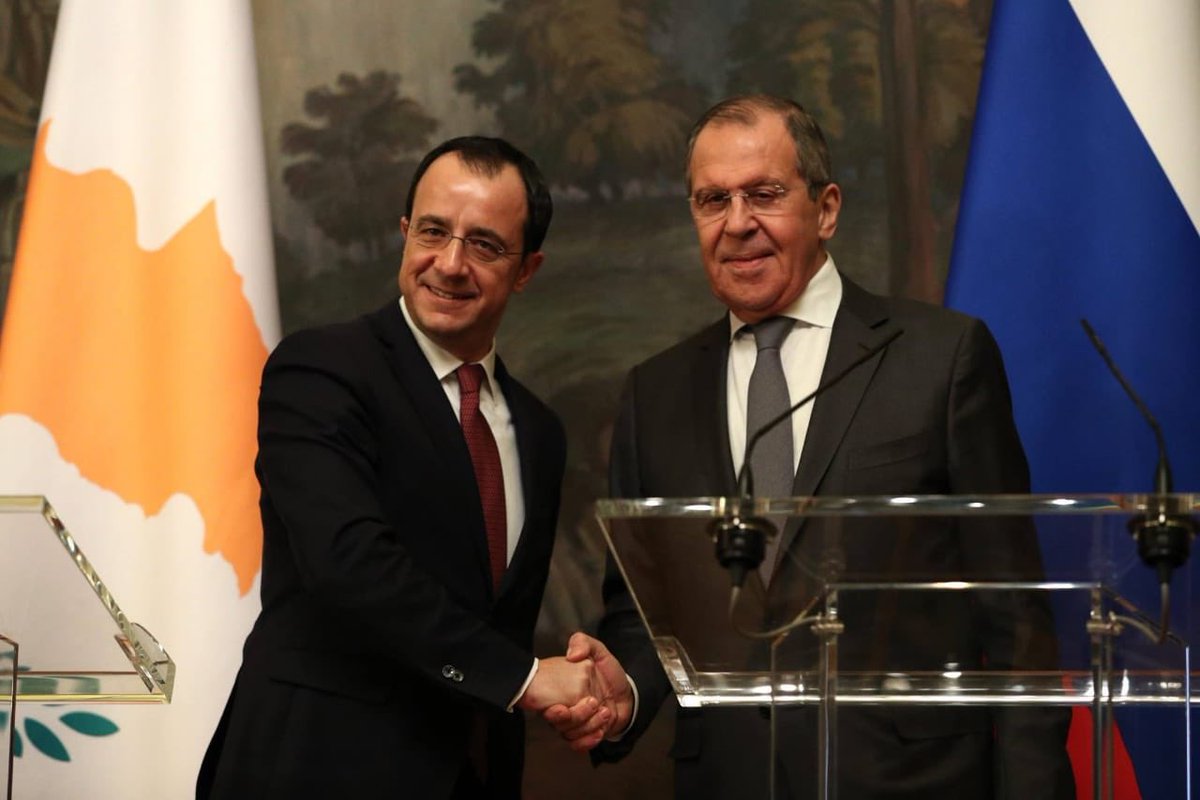 The strong ties of friendship and cooperation between Cyprus and Russia were reaffirmed during the working visit of Cypriot Foreign Minister Nikos Christodoulides to Moscow on Friday, February 22, 2019 at his meeting with his Russian counterpart Sergey Lavrov.
The two Foreign Ministers met in private on Friday morning, followed by wider talks between the two delegations. At the end of the meetings Christodoulides and Lavrov made statements to media representatives.
Nikos Christodoulides said he had a constructive discussion with Sergey Lavrov, Foreign Minister of the Russian Federation, with whom he exchanged views on bilateral relations, the Cyprus issue, EU-Russia relations, as well as regional and international issues.
According to Nikos Christodoulides, he agreed with his Russian counterpart to work together, with specific actions to further develop bilateral relations on a range of issues of common interest.
Additionally, there was a briefing on the Cyprus issue and on the latest developments and the Cypriot side's readiness to resume talks from the point where they were interrupted in Crans Montana, with a unique and non-negotiable goal of reaching a solution on the basis of relevant United Nations resolutions, European Law, the principles and values ​​of the EU. Nikos Christodoulides called for Sergey Lavrov's contribution in this direction.
On Euro-Russian relations, the Cypriot Foreign Minister described the EU-Russia relationship as strategic and stressed that "we, as Cyprus, have the strong belief that dialogue is the only way to deal with any disagreements and/or different approaches in this relationship".
For his part, Sergey Lavrov said that "Cyprus is a major partner of Russia in Europe", adding that "our multidimensional cooperation is based on traditional relations of friendship and mutual sympathy, as well as in spiritual and cultural affinity and serves the work of security and stability in the Eastern Mediterranean, but also throughout the European continent".
Regarding the Cyprus issue, the Foreign Minister of the Russian Federation said: "We are in favor of a just, stable, viable and universal solution to the issue. We believe that the intercommunal talks should continue on the basis of the United Nations Security Council resolutions and any changes to be made by new Council decisions". Continuing, he added that "it is obvious that the current status of external guarantees is anachronistic and no longer corresponds to reality. We are convinced that the most effective way to ensure the independence, sovereignty and territorial integrity of a reunited Cyprus must be with the United Nations Security Council's guarantees". Regarding the UN Peacekeeping Task Force in Cyprus, he pointed out that Russia sees no reason to modify the mandate.
With regard to Russia-EU relations, Sergey Lavrov expressed Russia's appreciation for the constructive stance of Cyprus. He then said that with Mr Christodoulides they also discussed a range of other issues, such as the crisis in Syria and Ukraine.
Finally, the Russian Foreign Minister said he would respond with great pleasure to the invitation extended to him by Nikos Christodoulides to visit Cyprus./IBNA