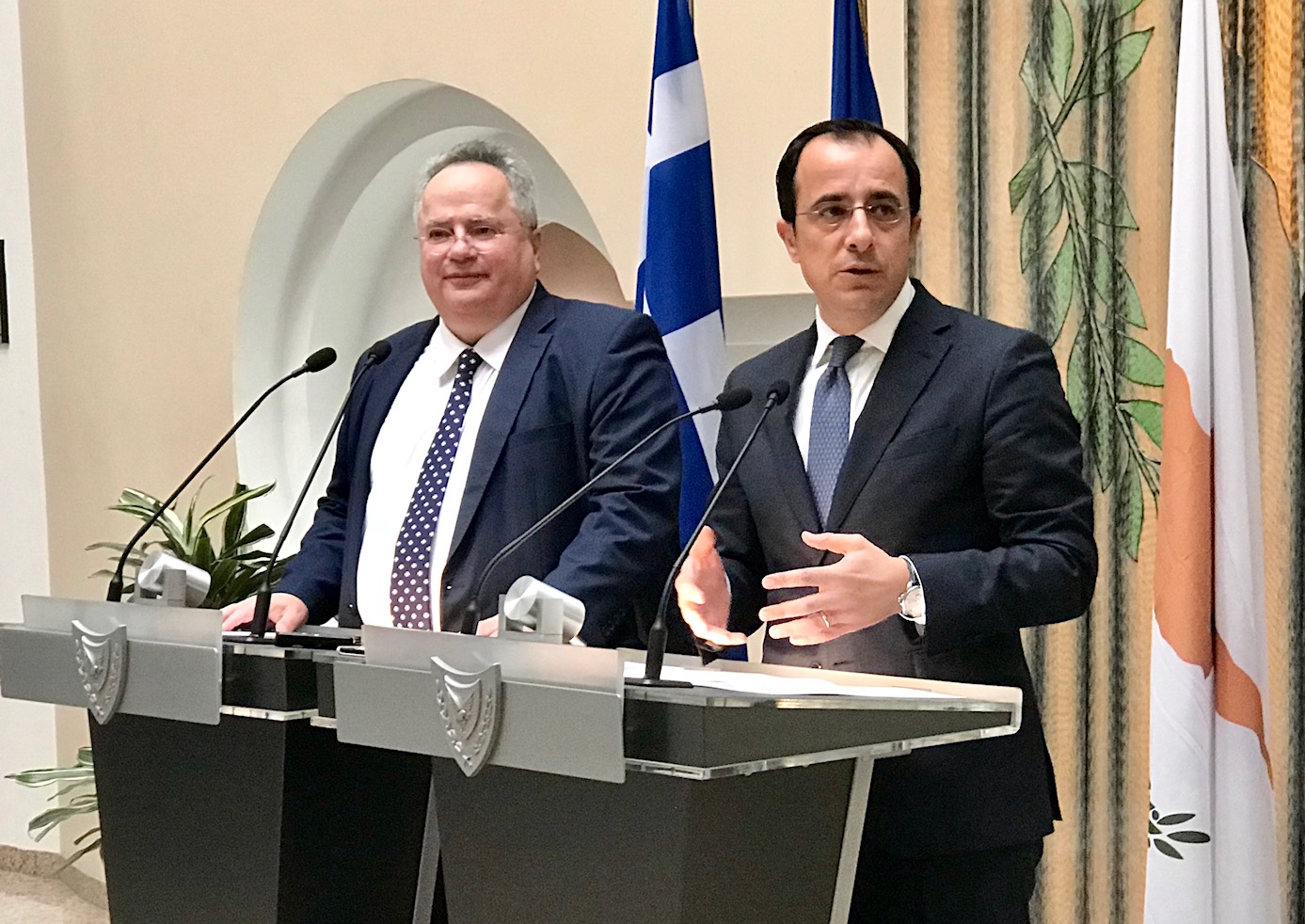 The Cyprus issue, bilateral relations, EU-Turkey ties, as well as regional issues of common interest, inter alia, were matters that the Cypriot and Greek Foreign Ministers Nikos Christodoulides and Nikos Kotzias respectively discussed today.
The two Ministers held a private meeting at the Foreign Ministry of Cyprus, and then chaired an extended talks between the delegations of the two countries.
Later on, when speaking to media representatives, Nikos Christodoulides said that a number of issues were discussed, such as recent developments in the Cyprus issue, upcoming elections in Turkey, the state of Greek-Turkish relations, as well as important regional and international developments plus joint actions by Nicosia and Athens at different levels.
Regarding the Cyprus issue, the Cypriot Foreign Minister described the decision by the United Nations Secretary General to appoint a special "envoy" to visit all parties involved in the Cyprus issue, in order to investigate the possibility of resuming the talks, in addition to the relevant UN resolutions and the principles and values ​​of the EU, and the framework of the SG as set out in Crans Montana, as an interesting one. "In this context, our approach is that the mission of the personality who will be chosen by the SG get down to work immediately and without any conditions and prerequisites.
With regard to EU-Turkey relations, Mr Christodoulides pointed out that, according to this year's European Commission Progress Report on Turkey, which began to be debated at Brussels level, "the country is moving away from the EU quite fast. We note the statement made yesterday by Mr Erdogan that Turkey will never abandon the EU target. We hope that the statement of the Turkish President will be translated into concrete actions in this direction."
In addition, the Cypriot Minister of Foreign Affairs stated that at today's meeting with Mr. Kotzias, they evaluated the results of the Tripartite Conferences. The two Ministers agreed on the need to further strengthen them in specific areas related to broader foreign policy, defence and security issues, while exchanging views on how these meetings can be broadened subject wise in specific areas with states from the region that are on the same page, as well as EU Member States, but also how there can be a more institutional linkage between these meetings, which will inevitably have added value, among other things, to their effectiveness and their design. Soon, developments in both directions will have to be expected, Christodoulides underlined.
Given the opportunity of the time and place, the Greek Foreign Minister expressed the great honour and joy for being in Cyprus. "I want to say that we have gone through many thoughts about opening new ways and moving forward. Today, we had a bold debate and agreed on bold steps that need to be taken. I listened carefully to an extremely interesting proposal from the Cypriot side. We are open and consistent with the basic thinking that has existed all along", Kotzias noted.
He added that tripartite conferences and initiatives in the Balkan region were discussed and there was an exchange of views on how Cyprus could be incorporated into these geographical links and partnerships.
Mr. Kotzias also said that the energy issues were talked. In addition, regional stability was revised, a matter on which Kotzias noted that "it is one of the most fundamental issues that concerns us both".
In this context, relations with Turkey were part of the discussions too. "It is well known that Greece is always dreaming and hoping for a European Turkey with which we will have normal relations and normal borders. If one of our goals is Cyprus as a normal state, the other, more difficult goal is normal relations. As far as this bit is concerned, we are walking side by side and we have discussed ways of influencing more players – in the sense of international relations – involved in this process", Mr Kotzias underlined.
Finally, asked by IBNA on Turkey's energy to submit delimitation maps of the EEZ and its continental shelf ignoring the areas belonging to Greece and Cyprus, Mr. Kotzias said that "Turkey has submitted a response to us, to the UN and shows it around to whomever is interested. They are mistaken positions, but Turkey is trying in every way to legitimise its illegal demands, because, as I have said, it is trying to make its moves legitimate. But international law cannot be trapped in such plans."
Responding to the same question, Mr. Christodoulides pointed out that "any decisions made in connection with the implementation of our energy plans are based on international law, the relevant Convention of the Law of the Sea of 1982, and no concern arises from such letters or statements made by the Turkish side." …. / IBNA