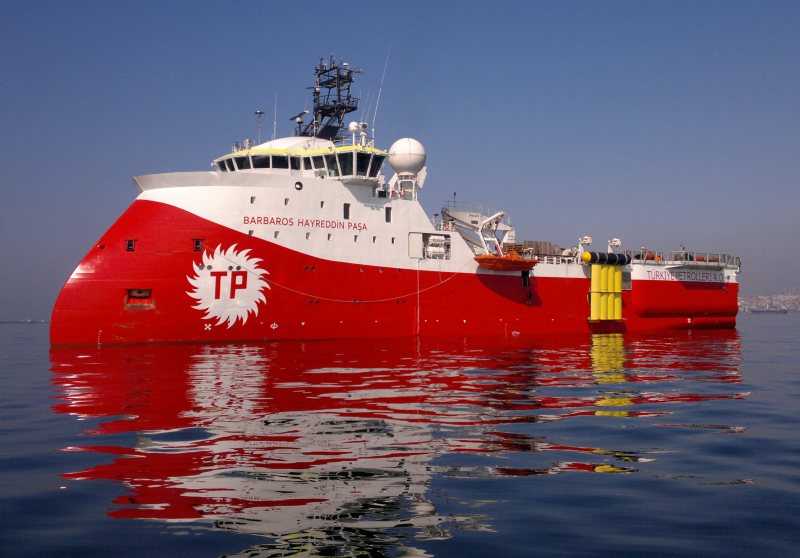 Review Hari Stefanatos
The turkish research ship «Barbaros» returns to the Cypriot EEZ for new surveys causing reactions in Nicosia.
According to an ad from the turkish coastal station of Antalya, it is committed to conducting seismic surveys in the area north of Cape Apostolos Andreas, from August 24 to October 2. The reserved area extends from the Bay of Mersin up the northeastern edge of the Cypriot EEZ.
The turkish move happens a few days before the new Turkish President Recep Tayyip Erdogan visit the occupied part of Cyprus, on September 1.
On the occasion of the new illegal activity announced for «Barbaros», government spokesman Nikos Christodoulides issued a written statement saying that the Republic of Cyprus shall denounce the illegal and provocative actions of Turkey to the United Nations, the European Union and wherever else is necessary.
Christodoulides adds that the Cyprus government wishes to reiterate that Nicosia is fully committed to the process of solving the Cyprus matter, which is at a critical stage, and seek ways to overcome the current difficulties.
"In this environment, the last thing one would expect from Turkey is to resume the provocations of the ship" Barbaros" in the Exclusive Economic Zone of the Republic of Cyprus. If Turkey was sincere in its declarations of the political will to help the negotiations to reach a settlement, it would have avoided actions that endanger to upset them", said the spokesman.
Christodoulides also stated that these actions by Turkey violate the international law.
The announcement for the mission of «Barbaros» was only a day after yesterday's statement of President Nikos Anastasiades' that "friends who meet", with the elected president of Turkey communicated that Erdogan is willing to contribute to the solution of the Cyprus matter.
The event caused declarations of opposition parties with Anastasiades as the recipient. In its announcement, the Democratic Party notes that Turkey continues its pitiful challenges, while at the same time Anastasiades with his declarations exculpates them.
Environmentalists said in their announcement that instead of expecting good gestures by Tayyip Erdogan, Mr. Anastasiadis should take the necessary steps to terminate the illegal Turkish President's visit to the "occupied" and denounce the provocative investigations of «Barbaros».