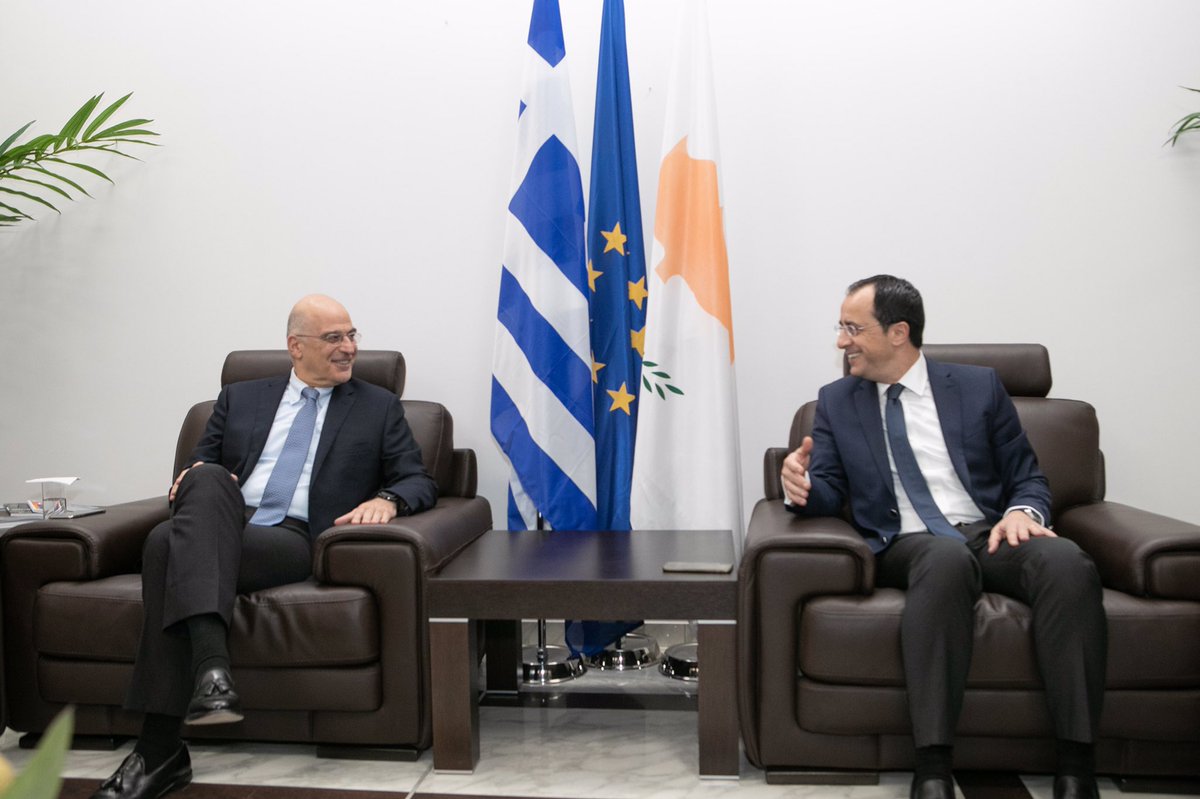 Greek Foreign Minister Nikos Dendias briefed tonight his Cypriot counterpart Nikos Christodoulides on the outcome of his contacts in Egypt and Libya, during a meeting they had at a Larnaca Airport.
Speaking to the press after the meeting, Nikos Christodoulides stated that "I had the great pleasure of welcoming the Greek Foreign Minister and my very good friend Nikos Dendia, who briefed me on the results of his recent trips that took place not only today, but also the days before. Significant contacts were made, and prior to the visit there was coordination. We share the same approaches and goals, and I believe that the ground has been set to tackle any moves initiated by those who wish to create a destabilizing situation in the Eastern Mediterranean in violation of international law.
The Republic of Cyprus and Greece are always moving towards the path of cooperation, without excluding anyone, always on the basis of a positive approach, and that is our call to all the states in the region".
Nikos Christodoulides added that there were several scheduled meetings with Mr. Dendias both on bilateral and on multilateral level.
For his part, Mr. Dendias noted that he has met with his Cypriot counterpart "countless times with the number going up".
He added that he briefed his Cypriot counterpart face-to-face on the results of his Gulf tour and his visit to Libya and Egypt today, while they also discussed preparations for the signing of the EastMed pipeline in Athens on January 2, "and exchanged views on better coordination, in order to achieve goals that are within the framework of international law, and without excluding anyone".
Mr. Dendias added that "all countries that believe the international law to be the natural environment are welcome to participate in our joint initiatives", while noting that he was very pleased to be "stepping on Cypriot ground".
In a question, Mr. Dendias responded that "international law and international treaties are sufficient to respond to any arbitrary position, statement, conduct".
Asked if EastMed constituted a response to Ankara, Mr. Dendias replied that "what we are doing is not a reaction against someone else. It comprises an effort to improve the quality of life for our citizens and our economy; to provide solutions. EastMed is a major energy boost to the EU's energy balance. We do not regard our initiatives as initiatives targeting someone else, but rather as positive steps, and we invite anyone it may concern to participate, as long as they agree with the broader framework".
When asked about the demarcation of the EEZ of Cyprus, Greece and Egypt, Mr. Dendias stressed that "there is a meeting scheduled for 8 January with Egypt on a technical committee level, and from that point everything will be open and up for discussion". /ibna