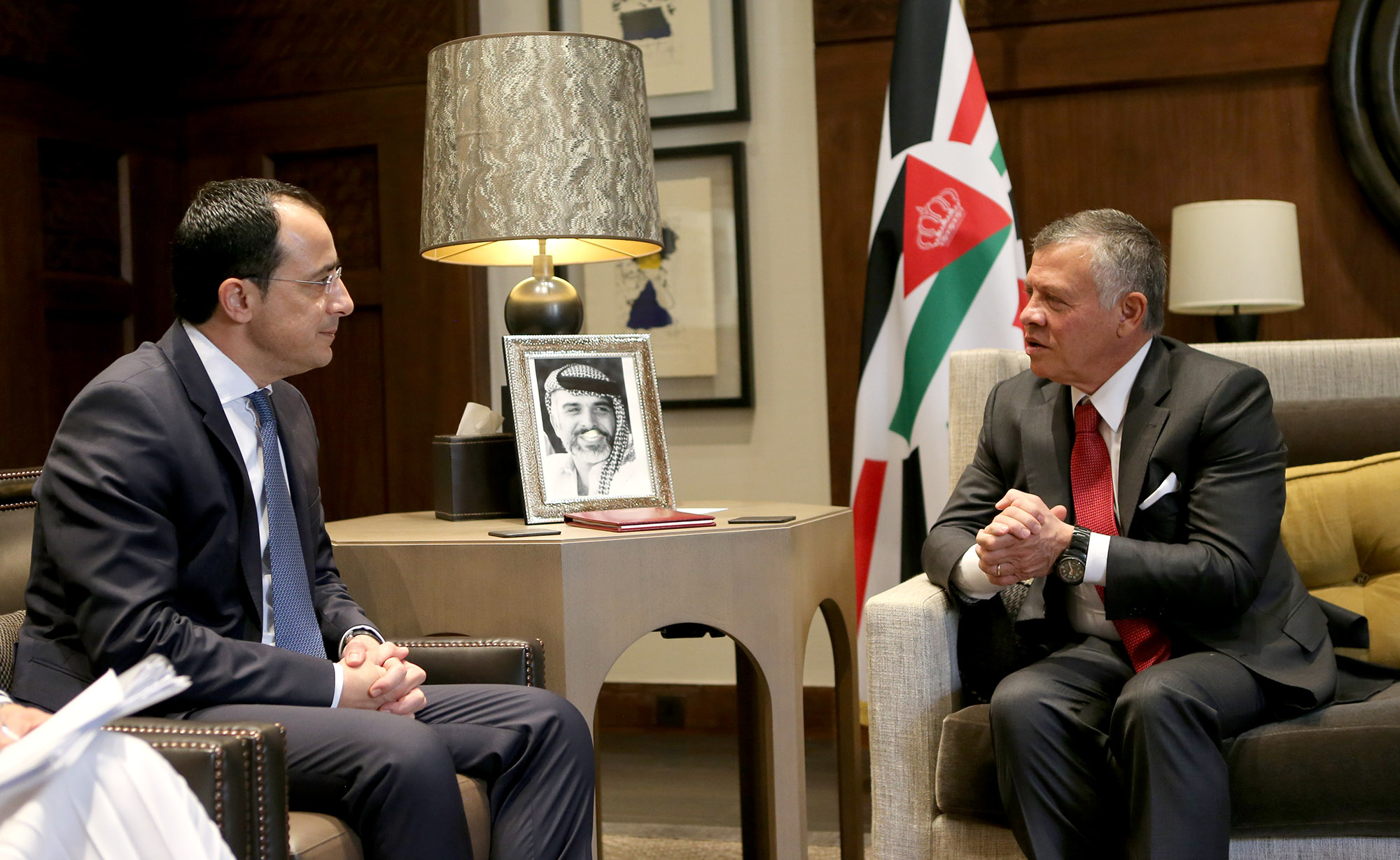 The minister of foreign affairs of the Republic of Cyprus, Nicos Christodoulides, during his visit to Jordan, has taken part in talks with his Jordanian counterpart, foreign minister Ayman H. Safadi.
In the meeting there was confirmation of the close ties of friendship and cooperation between the two countries, and the joint approach of Cyprus and Jordan to regional issues, including the Cyprus issue, and developments in the Eastern Mediterranean.
It was also agreed to establish a road map to promote mutually beneficial actions on a number of issues, as well as to establish a mechanism to monitor and implement these actions.
The Jordanian minister briefed his counterpart on the challenges the country is facing and on the efforts to tackle them, including those in the framework of the EU-Jordan relations.
Christodoulides assured his Jordanian counterpart of the support of Cyprus in these efforts and at the same time thanked for Jordan's longstanding support for the Cyprus issue and the related talks within the framework of the Organization of the Islamic Conference.
The two ministers also discussed the tripartite cooperation mechanism developed between Cyprus – Greece – Jordan and exchanged views on the issues that will be discussed at the next Summit scheduled to take place in Jordan.
Afterwards, the Cypriot FM had a hearing with Jordan King Abdullah IIbin Al-Hussein, during which there was reference to the strategic cooperation between Cyprus and Jordan, EU-Jordan relations, regional issues such as the Middle East and developments in relation to the Cyprus problem, as well as the Trilateral Cooperation of Cyprus, Jordan and Greece.
Christodoulides was also received by the President of the Senate, Faisalal-Fayez, where there was an exchange of views, in particular on issues of support to the Jordanian economy, in view of the serious challenges posed by hosting a large number of refugees in the country, the need for cooperation in the fight against terrorism and stability in the wider region, as well as on the Middle East issue and the developments in the Cyprus problem.
As part of his stay in Jordan, the foreign minister also visited the King Hussein Business Park, where he had the opportunity to be informed of the works and the work that is taking place.
On Monday, Christodoulides visited the Martyrs' Monument dedicated to the Jordanian fallen soldiers from 1915 until today, but also in the fight against terrorism.
Moreover, on Monday evening, the Jordanian foreign minister gave a dinner in honour of his Greek counterpart.
The foreign minister departs on Tuesday evening for Lebanon, where on Wednesday he will have meetings with the country's prime minister, Saad Hariri, and his Lebanese counterpart Gerban Bassil./IBNA
Photo: pio.gov.cy