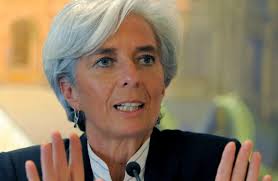 Review Hari Stefanatos
Christine Lagarde said that if Greece wants to leave the program it can do so. "It is the right of every country to manage its finances", replied the director of the IMF to the correspondent of MEGA, Michalis Ignatiou, adding that she sees with satisfaction that Greece has improved its position both in financial terms and in the issue of markets where there is a "significant improvement".
Ms. Lagarde stressed that in order to move the country forward and to constantly have a positive result, it would be better off if there was a proactive support and explained what she means:
"Greece would be better off, in our view, if it was supported proactively. We speak, therefore, of an evolution of our relationship, but we believe that this relationship can also help to a great extend the country to go forward and finally stand on its feet".
A source inside the IMF, talking with Michalis Ignatiou, said that Christine Lagarde means that the money remaining to be given to Greece will be available if the need arises.
It also appears that the IMF wants to have a prophylactic support line, obviously because Greece owes several billion to the Fund and therefore there may be a different type of surveillance.
According to the same source, the IMF wants to be able to intervene in the case when additional resources will be required or there will be violation of the agreements.
(Source: MEGA Television)