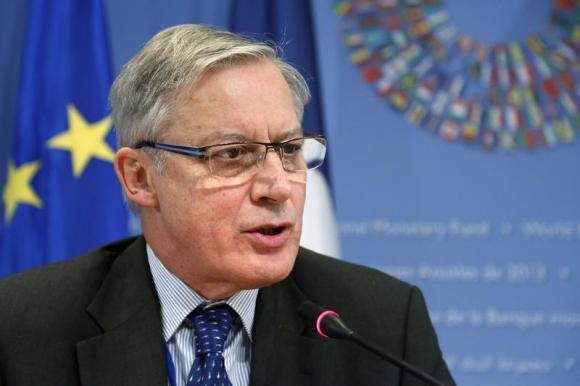 Athens, February 3, 2015/ Independent Balkan News Agency
By Spiros Sideris
The Governor of the Central Bank of France Christian Nouage said today that he opposes a partial deletion of the Greek debt, but noted that it is likely for some "adjustments" to be made. In an interview on radio station France Info, Noyer reminded that the European countries that have lent money in Athens have already made concessions, notably the "very low rates" of loans.
When asked if France would have to delete some of the money it has given to Greece, i.e. approximately EUR 42 billion, the Central Bank Governor said: "My answer is no".
"To estimate the burden of debt, we must see at what speed can a country develop (…) and what is the size of the interest rate that burdens it", added Noyer, who is also a board member of the European Central Bank (ECB).
"European countries have already agreed to very low interest rates, have given extensions to the repayment (loan of Greece) for many years. So basically, the real burden of interest rates is small relative to the amount of debt. Perhaps it would be possible further adjustments", he continued, without clarifying the nature of these adjustments.
Noyer also considered that the reform program implemented by Athens has begun to bear fruit and has allowed the greek economy to recover.
"With lower wages, they have managed to start hiring again and therefore the unemployment rate has been declining. It is very slow (reduction), growth is still very slow, but the economy has restarted", he said.
Compromise is necessary
Greece and its European partners will have to reconcile the "expectations for a change" of their relationship with their "rules" of the eurozone, estimated from Stockholm, the French minister for European Affairs, Harlem Désir, regarding the discussion that has started on the transformation of the Greek program or its replacement by a new program that responds to the need to boost growth.
"I don't believe that the situation must be presented in terms of a negotiation between parties that are contrary, that have different goals", said Désir after his meeting with Swedish Foreign minister Margot Wallström. "It should instead be possible to combine the expectation for change expressed in Greece and the participation in a common currency with commitments, rules", he added.
"It is normal for a new government to wish to pursue a different policy, having been given the mandate to do so, from the austerity policy that was very tough for Greece. And Greece will also have to find the conditions which would take into account its partners in the eurozone", stated the French minister.
According to him, "obviously we must above all help Greece to regain its growth and investments (…). The debt has reached 175% of GDP, but this is due to the fact that the GDP fell by 25%".