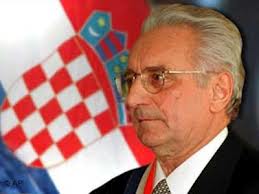 By Natasa Radic – Split
City council of Split, second biggest Croatian city inhabited by 200 thousand people and a famous tourist destination at the seaside, has decided in late March to erect the monument of dr.Franjo Tudjamn, the first Croatian President. The statue is supposed to stand in the town's center. On the same day, the City Council has decided to erect the 10 meters high cross at the Marjan hill that overlooks the city at the Dalmatian coast.
These two decisions would not be as controversial as they are if Split was in better financial situation. But, as the number of the unemployed persons is among the highest in the country and the local budget is in constant deficit, this has provoked a huge public debate that has exploded in the campaign prior to the local elections on May 22nd.
Historian and the election candidate for the upcoming local elections Dragan Markovina, who heads «Drugo lice Splita – another face of Split», movement decided to start the petition calling the citizens to disobey. He wants people to sign against the decisions of the City Council, and in two days 1 500 people signed the petition online while 400 people signed the petition in the public places in Split, just in a few hours.
– The local government lies by claiming that the erection of the cross will be financed by the donations. Split is the city that was directly destroyed by the decisions made by the first Croatian President Franjo Tudjman. He was to blame because many of the local – says Dragan Markovina. « We represented the experiment of the social madness» he claims. He oposes the decision of the City Council in the warke of the elections, saying that the people of Split have not decided to erect the monuments in the times of crisis.
This initiative has provoked many reactions in Croatia's second biggest city. Even those who are in favour of historical and religious monuments say that the times are rough and that jobs should be the priority, not the monuments.
«I would like to get a job, not a statue», says Franko Ivanic, a teacher from the Split region.