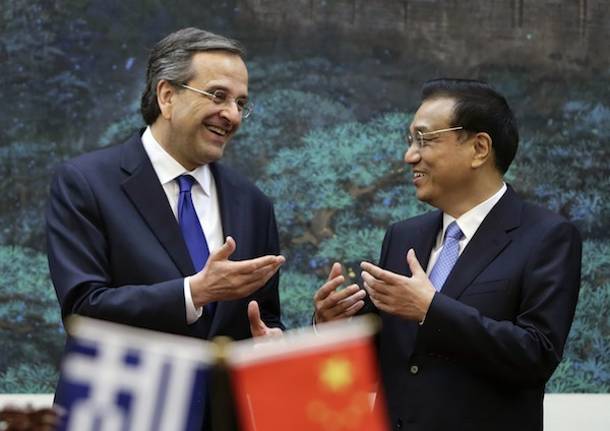 By Lefteris Yallouros – Athens
Chinese Prime Minister Li Keqiang is due in Athens on Thursday for an official three-day visit, accompanied by a 14-member government delegation that will explore further expansion of trade ties between Greece and China and sign several agreements in various sectors including shipping, infrastructure, financial services and exports.
The Greek government is eying the prospect of greater Chinese participation in the country's privatization program. Furthermore, the Samaras administration is keen on improving the extroversion of Greek products to China.
China is interested in investing in the Greek port of Piraeus while Beijing's interest in the new international airport near the port of Iraklio, Crete is also considered certain as China sees Greece as a gate to Europe for the country's entrepreneurs. Chinese investors are also looking at the Athens internatioonal airport as a possible investment opportunity.
Li will hold talks with Greek PM Antonis Samaras while on Friday the pair is set to visit Cosco's facilities in Piraeus as the Chinese giant aims to acquire a 67 percent in the Piraeus Port Authority that is being sold by Greece's Asset Development Fund. The two prime ministers will also attend a bilateral ocean cooperation forum.
The two sides will promote the opening of markets, encourage cooperation among business and investment promotion institutions, chambers of commerce and committees. "China will support its companies to join Greece's privatization programs" said Vice Minister of Commerce Gao Yan at a press conference ahead of the Chinese PM's visit.
With privatization and foreign direct investment lagging, Greek Prime Minister Antonis Samaras has been actively seeking to attract capital to Greece. The visit of the Chinese premier follows that of Azerbaijan President Ilham Aliyev with whom Samaras discussed the sale of the country's gas transmission network DESFA and details of the construction of the the Trans Adriatic Gas Pipeline (TAP) earlier this week.