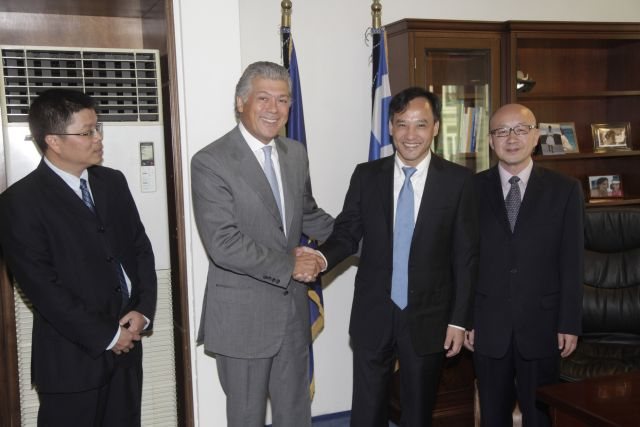 By Spiros Sideris – Athens
Meeting between Michalou and the president of the Chinese Fujian Shipbuilding Industry Group.
The investigation of bilateral economic and business cooperation was the object of Thursday's meeting between the general secretary of International Economic Relations Panagiotis Michalos and the president of the state shipbuilding group of the chinese Region Fujian, Zhao Jinjie.
During the meeting, the Chinese official expressed the company's interest to cooperate with greek shipyards and greek maritime equipment companies. Referring to the already existing cooperation with shipping companies in Greece, Jinjie stressed the already high demand of chinese groups for qualified personnel with the necessary expertise in shipbuilding and wider shipping industry.
Michalos said that Greeks professionals enjoy international recognition and identified shipbuilding as one of the areas that presents special opportunities for cooperation between Greece and China. As noted, the Greek ship-owners are the biggest customers of Chinese shipyards with over 200 ships of greek interest currently are under construction in China.
Given this cooperation, Michalos proposed two additional ways to promote bilateral cooperation, both with the use of financing offered by Chinese financial institutions to Greek shipowners for work carried out not only in China, but also in greek shipyards and with the proposal by the Greek side to add Greek equipment suppliers to the existing institutional framework and specialized Memorandum on Chinese shipyards.