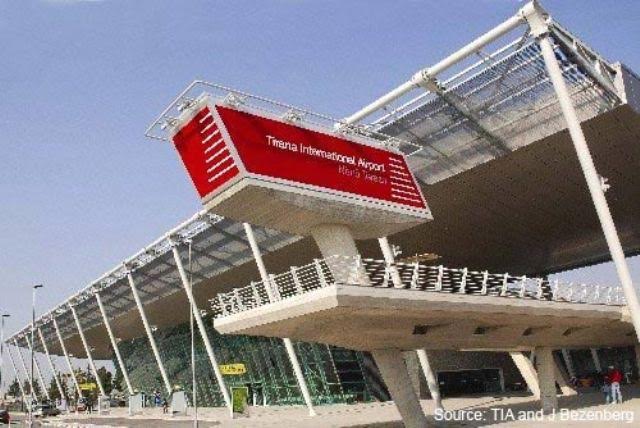 China Everbright Limited acquires 100% of the shares in Tirana International Airport.
Sale of the shares was completed on 7 October 2016
Tirana, 8 October 2016/Independent Balkan News Agency
Tirana International Airport (TIA) announces that China Everbright Limited (CEL), an international investment and asset management company based in Hong Kong, has acquired 100% of the shares in TIA.
"We are thrilled to announce an era of transformation with China Everbright Limited," said Rolf Castro-Vasquez, Chief Executive Officer of TIA. "The current shareholders, AviAlliance, DEG and the AAEF, as well as all employees have proudly developed the airport and served its passengers, providing state-of-the-art facilities" he added.
Since 23 April 2005, the overall responsibility for the development, operation and management of Tirana International Airport Nënë Tereza has been in the hands of Tirana International Airport (TIA), with shareholders comprising AviAlliance (formerly HOCHTIEF AirPort), DEG – Deutsche Investitions and the Albanian-American Enterprise Fund (AAEF).
"The acquisition is a proactive corporate approach to identify good infrastructure investment opportunities, which is in line with China's 'One Belt, One Road' Initiative. It also signs the first move of China Everbright Overseas Infrastructure Fund which is in the process of establishing", said Mr. Chen Shuang, Executive Director and CEO of CEL.
"With CEL's support and resources, TIA can further upgrade their facilities and hardware meeting excellence in all aspects. Also, leveraging on CEL's extensive networks in China, we believe that trading and tourism between the two countries will be further promoted. Therefore, this acquisition is of great significance and value", he added.
CEL, established in 1997, is the international investment arm of the China Everbright Group, a diversified financial services company. CEL manages 33 private equity funds, holds more than USD 8.7 bn in assets under management. CEL has extensive experience in the aviation industry, and is the single largest shareholder of the Hong Kong-listed China Aircraft Leasing Group Holdings Limited.
In 2005, TIA took over Rinas Airport when it handled about 600,000 passengers.Twelve years later, the Airport provides services to more than 1.9 million passengers annually. On April, the Government of Albania and TIA signed an amendment to the Concession Agreement of TIA and took a major step towards the development of air transport and the liberalisation of international flights in Albania. The Concession Period of TIA was immediately extended by two years, – until April 2027, in exchange for the opening of Kukës Airport to international flights.