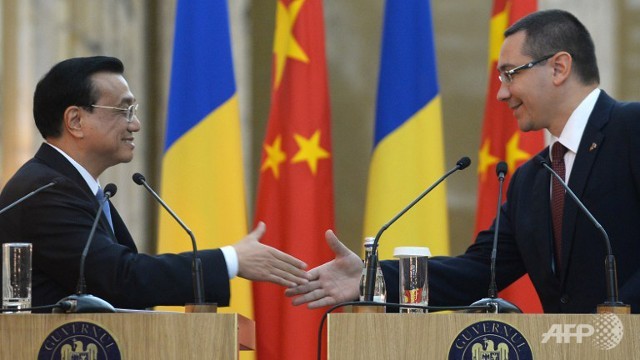 By Daniel Stroe – Bucharest
The Romanian and Chinese governments yesterday signed a series of agreements in various fields meant to strengthen economic ties and a joint statement which calls for enhanced bilateral cooperation, one day before the start of China-Eastern and Central Europe economic summit held in Bucharest.
The agreements concern the creation of a joint technological park and the resumption of cattle and pork exports to China, along accords in the nuclear, thermo-electric, sanitary-veterinary and cultural domains. The Chinese PM Li Keqiang arrived in Bucharest accompanied by representatives of about 200 Chinese companies.
"China is an important economic partner for Romania, but the potential is even bigger and we have to develop it. I was glad to see that over the first nine months of the year Romania's exports to China rose by 30 per cent" Romanian PM Victor Ponta said in a joint press conference. He also announced he had discussed with his Chinese counterpart the project of a high-speed train based on Chinese technologies in Romania.
"Romania, in terms of surface and population, is the second largest country in Central and Eastern Europe and is economically developing, bringing its contribution to the region and the whole EU (…) We believe Romania is an important pillar for the EU-China relations and a cooperation flag between China and Eastern and Central Europe" Chinese PM Li Keqiang said in its turn, underlining China seeks relations with a united Europe.
His comments come to reassure the European Union which is wary of China's interest in the region. On Friday, the European Commission sent out a letter to all the 28 capitals in the member countries asking them not to go beyond the EU agreed frame of negotiations with China in bilateral talks with Beijing. EU is afraid some countries may lower the negotiation standards and thus weaken the bloc's position in direct talks with China after a series of trade disputes between the two parts.
At the same time, EU just started negotiations last week concerning an investment agreement between China and EU which concerns the overall bloc.
Romania is primarily interested in Chinese investments in the construction of two new reactors at the nuclear plant of Cernavoda, the construction of the Tarnita-Lapustesti hydro-power plant, new investments in the solar energy field, apart from an already 100 M Euros investment underway, and also the construction of the Comarnic-Brasov highway.
Romania and China's trade relations reached 1.5 bln USD in the first six months of the year, up from 1.2 bln last year which marks an upwards trend. With an economic growth set to be around 2.5 per cent this year, Romania seeks to compensate a decrease in foreign investments with Chinese funds. About 1,500 businessmen and 19 heads of governments from Eastern and Central Europe attend the summit in Bucharest which wraps up on Friday.