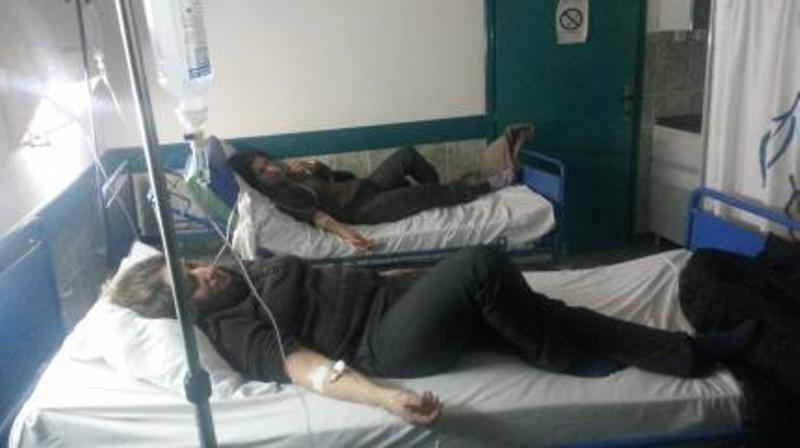 In Gostivar's School of Economics, unidentified people launched poisoning amounts of gas. This gas poisoned 60 students and teachers. Residents are worried about this event. The prime minister says that the results of a full investigation must be waited
Skopje, February 17, 2014/Independent Balkan News Agency
By Naser Pajaziti
In Gostivar, a city in the former Yugoslav Republic of Macedonia, which is mainly populated by Albanians, around 60 Albanian students and professors have been gas poisoned, ending up in hospital. Everything happened when unidentified persons launched amounts of gas in the Economics High School of Gostivar.
Due to their critical state, 14 of the poisoned people were sent to the central hospital of Skopje. In the weekend, they went back to their homes. Dr. Andon Civisev, head of the Toxicology Ward said that the analysis are being examined in order to conclude on the type of poisoning.
Ferid Muca from the hospital of Gostivar told IBNA that "we're expecting the test results from medical specialized institutions".
Police have also examined the scene. Ministry of Interior said that evidence has been taken in order to be examined during the inquiry. Specialized teams of the Ministry of Interior are verifying security cameras.
The head of the cabinet of the mayor's office of Gostivar, Bashkim Hasani told IBNA that the commune of Gostivar and parents demand for the authors of this event to be identified and punished. They are concerned that this event may be manipulated by authorities.
"We are in contact with prosecution and police and we were told that this case will be resolved, given that CCTV footage has been taken. We're hopeful that this case will be resolved and the authors of this inhuman act will be found. The parents and we, the municipality of Gostivar, have demanded for the authors to be found",says Hasani.
Prime Minister Nikola Gruevski along with the minister of Interior, Gordana Jankulovska have visited the students and teachers of the high school of Gostivar.
Speaking on this event, Mr. Gruevski said that all medical tests and the results of the inquiry must be waited. He promised that the results will be made public in a few days.
Residents say that this event has terrified them
Residents of Gostivar say that they're terrified by the poisoning of Albanian students in the High School of Economics with gases launched by unidentified people.
IBNA's correspondent in Gostivar talked to several residents. The entire city is engulfed by anxiety over the current situation, where tens of students were the target.
A part of the residents have expressed their revolt on this event, saying that it was a terrorist act inside a school.
"These are terrorist acts and there must be immediate reaction. Institutions must not sleep on it, but they must react. Albanians must insist in demanding a full inquiry on this outrageous act", says Sinan, a resident of Gostivar. /ibna/